"Sardinia is the place where colors are born before spreading throughout the world." This is how an acquaintance from there, Max Conteddu, spoke of his land on social networks shortly before he died. With this beautiful quote, we want to begin our report on one of the cities that most strongly expresses that feeling of indescribable beauty that Sardinia radiates: Olbia.
Gateway to the northeast of the Italian island thanks to its airport, Olbia is located on the map especially for being one of the most important cities on the Emerald Coast, an area where beautiful beaches with turquoise waters and fine white sand abound , making it a paradise for all those who are seduced by sun and beach tourism. However, in this article we want, in addition to encouraging you to explore this wonderful territory of Sardinia, where you can contemplate incredible sunsets, to take a walk through the interior of Olbia since its charm is surprising for the traveler.
As we said, Olbia, apart from its splendid beaches, among which Porto Istana stands out for being very close to the center, has other interesting attractions. Baptized by the Greeks as Olbia, whose meaning would be "happy city", it has a beautiful historic center, ideal for strolling and getting drunk on its essence, which combines the roots of its past and the modernity that characterizes it.
delicious gastronomy
Dare to walk along its main street, Corso Umberto, surrounded by beautiful 19th century buildings. Here you can go to shops and restaurants where you can try the typical Sardinian gastronomy, another of the great attractions of the island and of the Gallura region. We recommend that you try the malloreddus alla campidanese, if you are a pasta lover, you will love it; and the zuppa gallurese, very typical of this region, consisting of several slices of bread, cheese and oven-cooked lamb broth. Be sure to try the pane carasau, an exquisite thin and very crunchy bread, and its different and delicious cheeses.
For dessert we invite you to enjoy the seadas, a very thin dough filled with a mixture of cheese that is lightly cooked with lemon peel and sugar and then fried, served hot with local honey; If, on the contrary, you prefer something colder for the sweet touch, do not hesitate to go to a pastry shop for pardulas, small and exquisite tartlets very typical of the island.
After having recovered energy with some of these delicious Sardinian dishes, we invite you to continue with our itinerary through the city. In the same historic center you will find Piazza Regina Margherita, and between via Torino and Acquedotto you will be able to see the remains of the ancient Punic walls, one of the most important traces of its most remote past, as well as the Roman aqueduct and cistern , already on the outskirts.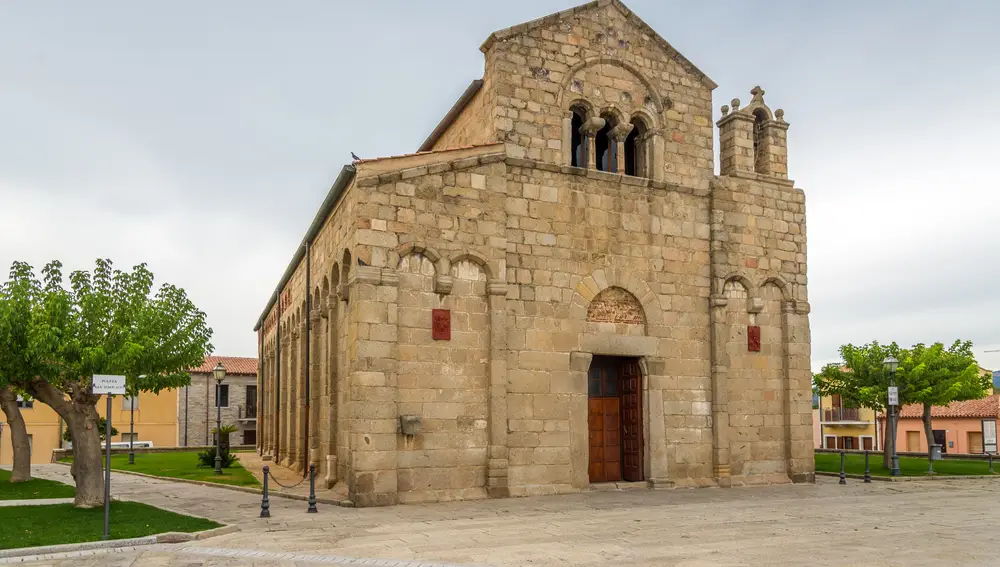 Church of Olbia, city on the island of Sardinia Dreamstime Dreamstime
If you want to know more about its fascinating history, visit the Archaeological Museum of Olbia, very close to the port of Isola Bianca. Its collections mainly refer to the Phoenician, Greek, Punic and Roman periods. It stands out for housing the remains of ancient ships and for being the only museum with masts and wheels from Roman times. In honor of this, the very structure of the building is a ship. As information about this museum for the traveler, it must be said that admission is free. Right in front of the aforementioned museum, you can enjoy an impressive Ferris wheel with views of the Gulf, get on it at sunset or at night, it is a truly wonderful experience.
The Basilica of San Simplicio, built on a Roman necropolis, and the Church of San Paolo, with its particular polychrome dome, are two other treasures with which Olbia surprises all those who decide to walk its streets. Before saying goodbye to Olbia, we suggest you visit the Fausto Noce park; Here you can relax walking and enjoy nature and its environment.
Excursion to the Emerald Coast and the La Maddalena archipelago
We could write countless lines about the surroundings of Olbia, since the truth is that every corner of Sardinia is worth visiting, not in vain, it is considered a paradise in the middle of the Mediterranean. We have already told you about the Emerald Coast, but we cannot help but recommend that, if you have time, you take a complete route through it, it brings together dreamy beaches and a beauty that practically no adjective would do them justice; To appreciate them, you must go, touch its crystalline waters with your feet and touch its fine sand, contemplate its spectacular surroundings and be infected by the unique magic that surrounds them.
North of the Emerald Coast is our next stop, the La Maddalena archipelago. Composed of seven small islands: La Maddalena, Caprera, Spargi, Santo Stefano, Budelli, Santa Maria and Razzolli, and about sixty rocky islets. All of them have impressive beaches, in fact, some of the most beautiful in the world are found in this archipelago, as well as magical coves and landscapes of such beautiful colors that they seem to be taken from a fantasy tale. Undoubtedly, the quote with which we started will come to mind here.
In short, if you want to enjoy an unforgettable trip on your next vacation, put Sardinia on your travel list, and especially the city of Olbia, without forgetting the Costa Smeralda and the La Maddalena archipelago. Paradisiacal beaches, extraordinary landscapes and delicious cuisine await you. Heed the call of this seductive island and wrap yourself in its magical Mediterranean essence.