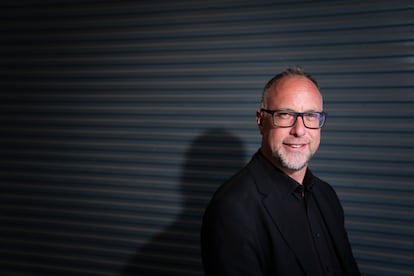 Mark Coeckelbergh, professor of philosophy at the University of Vienna, photographed at the Institute for Robotics and Industrial Informatics of the UPC.Gianluca Battista
Before this interview, Mark Coeckelbergh (Louvain, 48 years old) has focused the attention of an audience unaccustomed to philosophical debates: engineering students have filled a room to listen to this expert in technology ethics, invited by the Institute of Robotics and Industrial Informatics from the Polytechnic University of Catalonia. Coeckelberg, a prolific author —two of his books are published in Spanish by Cátedra, Ética de la inteligencia artificial (2021) and Filosofía política de la inteligencia artificial (2023)— knows how important it is to build bridges between those who develop technologies and those who they have to think how to use them.
Ask. Do you think that students, engineers and big tech take into account the ethical aspects of artificial intelligence (AI)?
Answer. People are aware that this technology will affect our lives, because it is already everywhere, but at the same time we are confused because the changes are very fast and complex. That is why I think it is important that education and research do everything possible to find an interdisciplinary path, between philosophy, programming and robotics, to try to solve these ethical problems.
Q. And with politics?
R. Yes, we have to create more links between experts and politicians, but not only technical opinion counts. We have to see how we can organize our democracy to have the vision of the experts and, even so, decide for ourselves. Technological companies have more and more power, and this is a problem, because the sovereignty of nations and cities is diminishing. How much of our technological future must be left in the hands of private initiatives, and how much must be public and controlled by democracies?
More information
Q. Is artificial intelligence a threat to democracy, or is it that democracies are already weakened?
A. Democracy is already vulnerable, because we really don't have complete democracies. It's like when Gandhi was asked what he thought of Western civilization and he said it was a good idea. The same with democracy: it's a good idea, but we don't have it complete. For me it's not enough to vote and get majorities, it's too vulnerable to populism, it's not participatory enough and it doesn't take citizens seriously. There is a lack of education and knowledge to achieve a real democracy, and it is the same that is lacking in technology. People have to understand that technology is also political, and that they have to ask themselves if it is good for democracy that communication infrastructures like Twitter are in private hands.
We use technology uncritically, and while a few have benefits, the rest of us are milked for data
Q. In what sense does artificial intelligence threaten democracy?
R. We deal with technology without thinking, we use it uncritically, but it shapes us and uses us as instruments for power, control and exploitation of our data. And while a few have benefits, the rest of us are milked for data. This affects democracies, since not being very resilient, political trends are even more polarized with technology. This combination of weak democracies, capitalism, and artificial intelligence is dangerous. But I do believe that it can be used in a more constructive way, to improve the lives of everyone and not just a few.
Q. Some see artificial intelligence to work less and have more freedom, and others as a threat to their jobs.
A. I think that AI right now empowers those who already have a privileged position or a good education: for example, they can use it to start a company. But there will be changes in employment, there will be some transformation of the economy, and you have to prepare. On the other hand, the argument that technology makes things easier… So far, it has led to precarious jobs, like Uber drivers, and jobs that may be good, but are stressful. For example, we are all slaves to email, and it came as a solution.
Q. So the problem is not so much the technology as the system.
R. It is the combination of both things, but indeed, these new technological possibilities force us to ask ourselves more than ever about the system. Today it is in the field of technology where political conflict is played out.
Q. What impact does it have in the media?
R. In this environment, the problem is not that people believe a lie, but that they do not know what is a lie and what is true. Quality journalism is very important to give context and to try to understand the world. I think it can help make people more knowledgeable, even if the AI ​​is used for some tasks in the trade. Philosophers, journalists, educators, we have to provide the tools to interpret the world, because when knowledge is lacking and confusion reigns, it is easier for a leader to come along with a simple and populist solution, as has already happened in some European countries.
Q. Can technology make governments become more technocratic?
R. The politicians are confused, they feel the pressure of the lobbies and they create regulatory frameworks, but the citizen has never had anything to say. States are becoming more and more bureaucratic, because they give power to those who control artificial intelligence. So who is responsible? This type of system, as Hannah Arendt said, leads to horrors. We must fight against it, with regulations that allow us to see why algorithms make the decisions they do, and that allow us to know who is responsible.
You can follow EL PAÍS Tecnología on Facebook and Twitter or sign up here to receive our weekly newsletter.
75% discount
Subscribe to continue reading
Read without limits