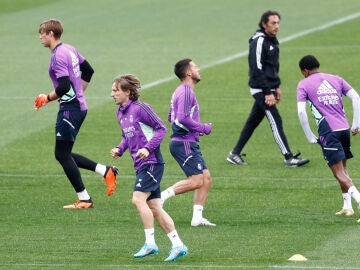 Real Madrid still has to finish LaLiga, but they are also thinking about the summer market and transfers and departures. This is how he plays on Saturday against Sevilla, without Vinicius: «He does not travel because he cannot play. If he had any chance he would travel and try to play. But the knee continues to bother him. It is not because he is away from home or at home. He can't play period. Hopefully he can be in the last game », said Carlo Ancelotti forcefully, in case someone thought that Vini or Real Madrid did not want him to be in Seville. That opens the door for Hazard. Rodrygo, the Belgian and the youth squad Álvaro Rodríguez travel in the club's squad. The matter must be put very badly so that Eden does not play. «I find it surprising that you do not have the patience to see the line-up tomorrow. I have never given the line-up the day before the game," said Ancelotti. Rodrygo is supposed to be number nine instead of Benzema, flanked by Fede Valverde and Hazard.
In the rumors about the movements of the Real Madrid squad, Hazard's name never appears because it gives the impression that the Belgian wants to fulfill his remaining year at Real Madrid, despite the fact that his minutes have been few, until he disappears in the decisive final stretch Only the injuries of others have opened a gap for him in the inconsequential games that Madrid has been playing in LaLiga. «Hazard has a contract, so it is assumed that he stays here. Then, like all players who have a contract, if he is not happy he has to ask the club to leave and if they are happy with the contract they stay here," Ancelotti said of the Belgian.
But according to the English press, a door is open for the Belgian footballer to leave Real Madrid. Kane is leaving Tottenham and the white club is looking for a striker to take over from Benzema. A lower level was sought, someone who arrives to be, mainly, a substitute, but Kane has appeared and is not ruled out entirely. According to Sky, what the English club is asking for is money (and Madrid is only going to do crazy things for Bellingham) but the amount could be reduced if Hazard enters the operation. It would be a dignified exit for all. Hazard because he returns to the Premier, where at Chelsea, he played his best minutes as a footballer and became one of the best in the world and for Real Madrid because he would take away the highest salary in the squad, or one of the highest . He doesn't count on him, his departure would be good news.
It is not the only thing that has happened today in the Real Madrid market. According to Relevo, Asensio is not going to continue. Real Madrid had made him an offer which improved his economic conditions. But Asensio wants to find a future outside of Real Madrid because he wants to prove himself, have more minutes, more consistency, show that he is the footballer he promised so much. Asensio, who has scored 12 goals this season, a great figure, does not travel to Seville, so he would only have the match against Athletic as a target. At the club they wanted him to continue, but no one assured him ownership or many minutes. Rodrygo and Fede Valverde are ahead of him in Ancelotti's plans and Bellingham, who will arrive soon, has been signed to play now.