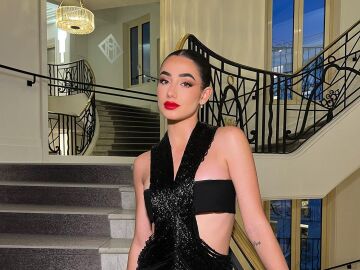 The rhythm does not stop at the Cannes Film Festival, after our influencers, Marta Lozano and Marta Díaz, set the bar very high, Georgina Rodríguez and Lola Lolita have arrived with two dresses to dazzle as only they know how. And it is that as you know we are facing one of the favorite weeks for every self-respecting fashion lover to analyze all the looks of this 76th edition of the Cannes Film Festival. Although yes, this year we are missing the tall outfits that we had last year with Penélope Cruz and Ana de Armas, the Spanish influencers are representing us very well, and Marta Lozano with Spanish fashion. If the other day it was Teresa Andrés with mermaid hair or Amaia Salamanca, now it is Lola Lolita with this wonderful dress by Victoria, Vicky Martín Berrocal's signature, made exclusively by hand for the tiktoker, and for a month. Almost nothing!
A Lola Lolita dress that is described by Vicky Martín Berrocal's firm as follows: "The dress is made exclusively for her and more than a whole month of work has been invested in it. For the elaboration of this very special design, they wanted combine two different ideas that combine perfectly: on the one hand, the strength and empowerment of women through a structure of jet stones, sewn one by one by hand in its entirety by hand, and tulle and silk that give a velvety appearance.While the rhinestones would be considered an armor that protects and cares, the velvety part in turn shows that sensual, soft, feminine and elegant side.On this occasion the materials play a fundamental role.
It is a monochrome design where tulle plays a fundamental role and in which the shape of the body, transparencies of the fabric itself, as well as stone, a fixed material that acts as a shield, are visible. The mermaid skirt, a great protagonist on the red carpet, is also made from tulle, with a jet stone embroidered structure cascading over the skirt and together with a crepe and tulle crop top.