Jeans are the most used garment in the world, a staple in anyone's wardrobe, both men and women, both children and adults, and it is undoubtedly a garment that is extremely comfortable and that you can combine infinite ways to achieve all kinds of looks. Today we show you some Lidl jeans They are so incredible that they seem to be taken from Zara, a garment that you are going to get a lot out of and that you can take with you now with a spectacular discount… run, fly!
Lidl has a more than interesting clothing section that includes a wide variety of garments, always with high sales rates as it knows perfectly what its customers like and what is going to work best, both who have had garments that have even gone viral. The German chain is growing by leaps and bounds in Spain, where it already has more than 600 establishments and is in the top positions in terms of sales data.
Lidl's flared jeans that will blow your mind
It's about the Women's Flare Jeans, a garment that you will want to wear every day as it will provide you with an incredible style that you will want to make the most of, ideal both for going to the office or to the university, going out for a walk or going to a party, the The key is how you combine them to achieve one or another style in each case. They currently have a super 17% discount that leaves their price at only €13.99, an epic bargain that you cannot miss.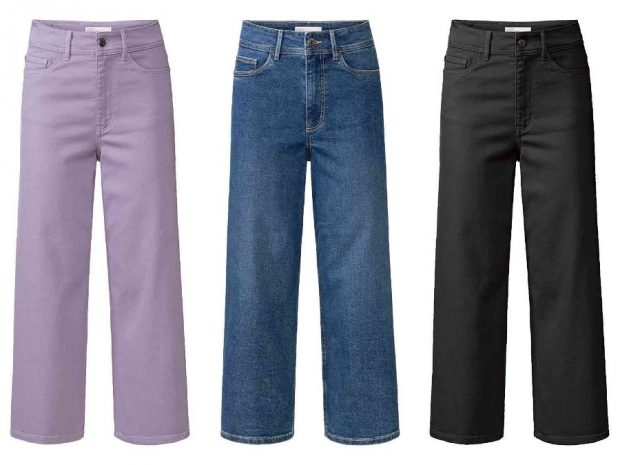 these fantastic Lidl flared jeans They are high-waisted and have details as interesting as 5 pockets of different sizes, modern ankle length, high-quality recycled zipper from the YKK brand, quality fit thanks to LYCRA elastane and high cotton content that provides great comfort and a Soft touch. All the materials are of the highest quality, so the pants can last you a long time if you take good care of them.
Available at sizes 34 to 44, you can choose it in three different colors (dark blue, black, lilac), so you will have many options to make different combinations and create a wide variety of looks, both day and night. The manufacturer performs the following recommendations for your care:
Machine wash at a maximum temperature of 30°C. Do not use bleach or any bleach. Tumble dry only on low heat. Iron at low temperature, at a maximum of 150ºC. Do not dry clean.