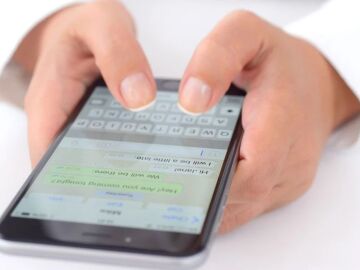 The arrival of new technologies allowed, among other things, to change our way of communicating. It is no longer necessary to have a conversation in person, but you can contact another person who is in any other part of the world, whatever the distance, as long as there is an Internet connection and a device with which to connect. Applications like WhatsApp, which is already a decade old since its birth, allow us numerous functions related to messages, emoticons or sending multimedia content such as photos or videos.
Since its creation, the platform has had numerous innovations that it has launched over the years. Among the latest, we can find changes such as deactivating "online", deleting messages or building your avatar. But there was one that was hard to come by, and now, after the latest statement from the company, it is once again shown that good things take time to wait. There comes a WhatsApp option with which to edit the messages sent. Meta's messaging app officially announced this change this week, something that was an open secret.
This functionality had been present for a long time on other platforms such as Telegram, but WhatsApp had not yet raised it. Until now. A change to be able to correct a message when we have made a spelling mistake or to remedy the times that the autocorrect plays a trick on us, among many other reasons.
This is how the option to edit a WhatsApp message works: when it will be available
The function is simply about modifying the message you have sent, which will be changed in real time both on your mobile phone and on the other person's device. The first thing you should do is enter the chat and select the message you want to edit, holding your finger down on the corresponding message. Thus, a menu will appear with the "Edit" option. When pressed, a text box will appear with your message, so you can edit it and change or add what you want, as well as create a totally new message.
Clearly, the other person will know that you've edited it, just like they can know when you've deleted a message. Below it, a "edited at…" will appear, in which both members of the chat will be able to know the time at which it was edited.
This function comes with some details, such as that we only have fifteen minutes to modify the messages. Afterwards, the edit option will no longer be available, although the "delete for everyone" option will remain, as has been the case up to now, to be able to delete that message and create a new one if necessary.
As explained by the company, this function will be available on both iOS and Android, as well as its global deployment has already begun. Some users may not see it available yet, but WhatsApp explains that it will not be available in all accounts until "within a few weeks". Later, more new features will be presented, such as the blocking of chats with a password or biometric data.