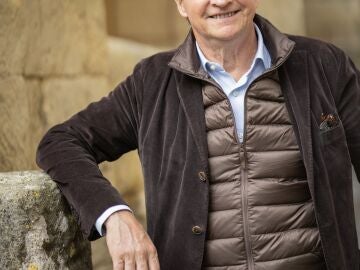 The second largest winery family in France. Within it, François Lurton embodies the fourth generation of viticulturists who have produced Bordeaux wines since 1897. Before starting with wine, his great-grandfather produced, and before him his ancestors, spirits in that region since the mid-19th century.
In 1985, after finishing his studies in Marketing and Commerce, he began his professional career in his father's André Lurton vineyards. Together with his brother Jacques, he created a consulting company in 1988 that took them around the world to discover exceptional wines and terroirs. And little by little the Lurton brothers were building wineries in Languedoc, southern France, and later in Bordeaux. And outside of France they reached Spain, Portugal, Argentina and Chile. In 1989 they created their first wine, "Fleurieu Heritage", at the McLaren Vale in Australia, a project replaced by Jacques's "The Islander" wine bar on Kangoroo Island.
Years later his brother Jacques gave up his share and François became the majority shareholder. The company changed its name to Domaines François Lurton.
– How do you remember your beginnings in the world of wine?
– My father André made me and my brothers work doing everything in the winery and in the vineyards themselves. Including experimentation on grapes and their diseases. Also in commercial affairs. One of the Achievements was the birth of the Pessac-Leognan Designation of Origin.
– But soon he directed his steps to other sectors.
– After doing military service, I was offered a job for my commercial studies by the owners of the company that produces Hennessy cognac, located not far from Bordeaux, but in the mid-eighties my father's winery needed more hands to develop it and I entered his address. After that phase I was able to start new initiatives again and with my brother Jacques we developed an international project in Chile and Argentina in the early nineties.
When does Spain appear on that tour?
– Very early we arrived in Castilla y León. He went to Rueda in 1992 in search of Sauvignon Blanc grapes because a client needed volume. There we discovered the Verdejo and all its potential, although we still found wines that were too neutral, not the ones we wanted to make. In collaboration with local winemakers such as Antonio Sanz, and thanks to the tannins of the wood in the barrels and those of the skin itself, we were able to obtain that extremely interesting creamy wine that we were looking for. Tinta de Toro also seemed to us to be an exceptional grape and became the other support for the project. I have never wanted large volumes, and after selling the previous winery to Grupo Torres in 2014, I had the help of Michel Rolland to start Campo Elíseo.
– Were you satisfied with your conquests in Spain?
– With the Toro ink we wanted to make less concentrated wines than those that characterize the variety. It is about evolving from rustic tannins to finer and more elegant ones. We were the first to make wines that are not so extracted because Michel has made us change the way we work. We have achieved a wine with body and power but at the same time a lot of elegance. with her in Spain.
– How have your tastes in wine evolved in recent years? Do you still like the same ones as before?
– Taste changes, it is constantly evolving. In Bordeaux I was moved by old wines, but with time and the discovery of the New World I began to like them younger and with much less wood, much shorter aging, both for whites and reds. From Bordeaux today I only drink wines from 2008 or 2009, nothing to do with those historical vertical tours of yesteryear. I'm also having the colder wine because there's more alcohol now.
– Does the production of biodynamic wines attract you?
– I started with them in Chile several years ago. The ecological process that we develop today is almost biodynamic. We try to respect the climate and the land as much as possible.
– How does climate change affect winegrowers?
– Clearly. It may even be necessary to change the grape varieties to adapt to so much heat.
– How do you see the current presence of Spanish wines in the world? They occupy a place similar to that of the Chileans. In general they have exported too many basic and cheap wines. For this reason, when prices rise a little, sales automatically stop. It is a low-priced country for many years and is a
It's a pity because there is quality to produce wines that are perfectly comparable with Italian or French ones.
– Is wine everything in your life?
– Almost. But also the motor world. I even participated in a Dakar Rally. And the snow. After all, everything is nature, like the one that houses my vines.
Biography of a multifaceted man
1988. Creation of the consulting company Jacques and François Lurton.
1989. Primer vino in Australia, "Fleurieu Héritage".
1991. Signing of the contract with Nicolás Catena in Argentina.
1992. Beginning of the collaboration of Viña San Pedro (Chile). First vintage of Hermanos Lurton verdejo DO Rueda.
1995. Purchase of the first plot in the Chacayes terroir in Vista Flores (Mendoza, Argentina). The Lurton Chacayes Piedra Negra Argentina Winery has just been born.
1997. Creation of the Gran Araucano brand in Chile. Plantation of 150 hectares in Argentina.
1998. First DO Toro winemaking. Creation of the El Albar Winery. "Fumées Blanches" is born, a 100% Sauvignon brand.
1999. First vinification in the new Bodega Piedra Negra.
2000. Purchase of land where Hacienda Araucano-Lolol will be built, Colchagua Valley (Chile).
2001. Premiere of a Campo Eliseo vintage with Michel Rolland and DO Toro. Purchase of the first plots of Château des Erles in DOC Fitou (France).
2002. Start of construction of the Hermanos Lurton Winery in Villafranca del Duero (Toro).
2003. End of the construction of a winery and house in Lolol (Chile).
2004. Expansion of the winery in Argentina with the planting of 50 additional hectares.
2006. Purchase of two properties in Portugal DO Quinta Do Beira Douro and Quinta Do Malho.
2007. Departure of Jacques. François becomes the majority shareholder of the company.
2009. Compra del Mas Janeil en Tautavel.
2011. Construction of the winery and first harvest of Mas Janeil.
2012. The sparkling "Fumées Blanches" is a reality.
2013. Demeter-Hacienda Araucano Certification.
2015. Recognition of the DO Lolol within the DO Valle de Colchagua.
2016. Construction of the new Campo Eliseo winery in La Seca, DO Rueda.
2017. Creation of the branch of spirits. Launch of "Sorgin", the first François Lurton distilled gin based on Sauvignon Blanc. Recognition as GI of the Los Chacayes denomination: his iconic wine from Argentina bears his name.
2018. Launch of "Léonce", Extra Dry white vermouth, and "Yellow Gin" (Sorgin aged 6 months in Pessac Léognan and Graves barrels).
2023. In Spain he now owns the El Albar Lurton winery, located in Villafranca del Duero, 10 kilometers from the historic center of Toro, between Valladolid and Zamora. It currently has 6 hectares of the Sauvignon Blanc variety, 12 hectares of Verdejo and 17 of Tinta de Toro. They also work with certain producers in the area who have older Verdejo vines. Its most important Spanish wines are:
Blancos DO Rueda.
· Hermanos Lurton Verdejo: Fresh attack, fruity and vegetable notes typical of Verdejo, with a long finish that invites a next drink.
· Lurton Brothers Sauvignon Blanc. It offers an incredible aromatic intensity. Unctuous, fruity and citric.
· Cuesta de Oro: White wine with partial fermentation in French oak barrels. Tasty attack, creamy texture, very well integrated toasted notes and an aftertaste of fruity notes.
Tintos DO Toro.
These three wines belong to the Burdigala winery in which Dany & Michel Rolland and François Lurton join forces to create this special range.
· Peasant: Expressive wine on the nose, with hints of red fruit, toffee and vanilla notes. On the palate it has a wide entry, medium structure and polished tannins.
· Campo Eliseo: The nose is very fine, medium-high intensity, with hints of red fruits, spices and woodwork notes. On the palate it is broad and structured.
· Campo Alegre: The little brother of Campo Eliseo, pampering the same small details but with a lighter style. Medium intensity, balanced and smooth.