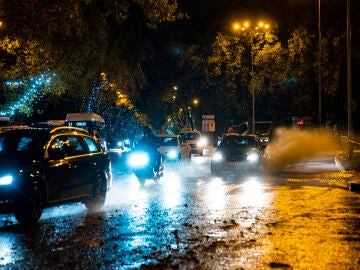 Night spent by water in the entire region. The Fire Department of the Community of Madrid carried out 17 interventions this morning due to non-serious incidents due to the rain in different municipalities of the region, such as pools of water in the streets, flooding in homes or damaged trees.
This has been indicated by Emergencies 112 Community of Madrid, which between 11:00 p.m. on Thursday and 7:00 a.m. on Friday has managed 66 files related to tonight's rainfall.
The Firefighters "above all" have acted in El Escorial, San Lorenzo de El Escorial, Collado-Villalba, Galapagar and Alpedrete. Of the incidents, "none" have been "of relevance", has specified Emergencies.
Some showers to follow. The forecast of the State Meteorological Agency (Aemet) in the Community of Madrid for this Friday indicates that there will be widespread rain or showers, accompanied by persistent storms, and that the maximum temperatures will decrease, which will be notable in the extreme west.
The sky will be cloudy or overcast, with high clouds predominating in the south in the end, and the rainfall from this DANA will be persistent in the Sierra, locally strong at dawn. The unstable situation of this Friday will also be felt throughout the weekend. Election Sunday will not be an exception and the showers will accompany voters throughout the day. A situation that will continue during the beginning of the week.
There will be light east and southeast winds, with more intense intervals in the morning, and minimum temperatures will remain practically unchanged.
The thermometers will oscillate this Friday between 15 and 20 degrees in Madrid, 16 and 20 in Navalcarnero, 13 and 21 in Alcalá de Henares, 13 and 23 in Aranjuez, 9 and 17 in Collado Villalba and 16 and 21 in Getafe .