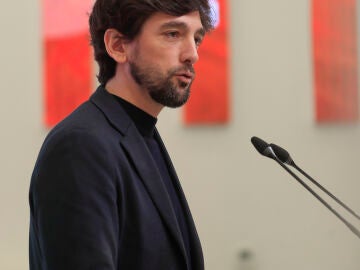 <![CDATA[
[[LINK:EXTERNO||||||Ciudadanos]]arrives at the end of the campaign convinced that they will be "decisive". In the party they are happy because they assure that "we have not made any mistakes and we have launched proposals", party sources highlight. In the final stretch to 28-M they warn that bipartisanship is something that has no solution after the purchase and plot of the stolen votes and they criticize that there have been media outlets that have wanted to send the message that the oranges do not reach 3% and they are finished.
However, they assure that they have good prognoses in the Madrid City Council and also in Murcia and Aragon and their objective will be to "define mayors and autonomous governments." And it is that from how they were before to now, in addition to the impact that the different news that is disseminated about them has had, they assure that "they will surprise election night."
Before those who send the message of "useful vote" or "not useful" the general secretary of Cs, Adrián Vázquez indicates that "telling a citizen that their vote is useless is a lack of respect and that is to say what is the PP and Feijóo " which, he stresses, "does not represent one in four". "We want citizens not to have to go with their nose clamped to vote" and be an alternative to those who "buy defectors and votes."
The oranges arrive at the end of the campaign warning that "we will not allow an extreme right-wing party to enter a government, nor that there are left-wing extremists and, with nationalists who want to break Spain, we do not negotiate," say management sources. They also criticize that the PP "the only green that it likes is that of Vox and we are not going to allow it and with the PSOE the same" that, in the event that they are decisive. In addition, Cs remembers that PSOE and PP, except in Castilla La Mancha or Madrid "do not have any guaranteed majority anywhere. The absolute majorities have ended" and point out that "we would be decisive in the Valencian Community and the Balearic Islands" but, sources from the leadership of Cs insist that the popular "prefer to go to the mountains with the extreme right. There are thousands of Spaniards who do not They will allow it."
"Depreciated" campaign
In the orange party they consider that "we already have amortized May 28 because, whatever we get will already be a success" even more so when everyone considers them wiped off the map and warns that "we will have hundreds of councilors and we will be decisive in many places. Let's give a surprise. We have returned to moderation, we do not want the policy of trenches.
The entire party has been involved in a campaign throughout Spain where everyone, without division, has traveled throughout Spain. They reiterate in Ciudadanos that "our victory is to compete with a good program and a match based on amortizing ourselves." They insist that they have a project that is the one that they are going to assert "where we will be decisive. We are clear where we are going now. The bipartisanship is not going to return" and they emphasize that some, like the PP "have sold the skin of the bear before hunting it".
The next day, according to the orange forecasts, there will be no majorities and they warn: "We will agree on the basis of the program, with which we manage to agree on a more Cs program. And they point out that their priority is in the middle classes, families, those who do not make it to the end of the month, citizens who feel suffocated by taxes", etc.
]]>