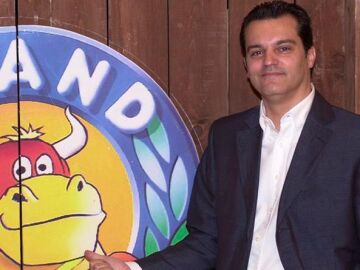 Beyond what happened with the heifer, the great unknown of the return of the 'Grand Prix' was whether Ramón García would return to be the presenter of the program.
Thanks to an exclusive from El Televisero, it has been revealed that, despite Ramón García's doubts and statements that tried to lower expectations about his return to the contest, the Basque presenter will finally be part of this new stage.
Therefore, Ramontxu will return as master of ceremonies for the 'Grand Prix' on his return to RTVE after 18 years. He will be accompanied by a co-host or co-host, whose identity has not yet been confirmed. EuroProducciones and RTVE have been working for weeks on the return of this iconic television format.
In addition to ensuring the hiring of Ramón García, another of the important decisions has been what will happen to the heifer, one of the key elements of the contest, vetoed by the Animal Welfare Law (sic). As reported by different media, a 'super heifer' has been chosen that will be used as a disguise by a member of each team and can be used as a wild card.
Apart from the heifer, TVE and the production company are working on modernizing some of the tests of 'El Grand Prix' with the aim of attracting different types of audience, including the youngest who hardly watch television. As reported by El Confidencial Digital, it is being considered to include a video game competition between two participants broadcast by streamers.
Evidence related to the famous video game Minecraft, typing messages on a giant smartphone or dancing to trap genre songs on a large rotating disc are also being studied.
In short, in this way, Ramón García returns to TVE after five years since he presented the New Year's Eve Chimes on the public channel together with Anne Igartiburu. His last program as a presenter on La 1 was in 2015 with 'El legado'. Previously, in 2012, he presented 'Do you know Spain?'.
Thus, Ramón García will combine his work on 'En compañía' on CMMedia with hosting the new season of 'Grand Prix' on TVE.