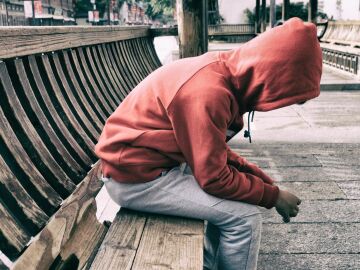 Although there is often a tendency to relativize their impact, considering them "passing negative experiences" or "complicated stages inherent in life", childhood traumas are not innocuous. Painful experiences such as sexual abuse, the loss of a loved one or bullying can leave deep and lasting wounds in the mental health of those who suffer them, altering their emotional development and affecting their well-being, their school and work performance, and their social relationships. throughout life. They are like drops that fall into a pond, creating ripples that spread over the entire surface and amplify over time. And they can lead to the development of severe and chronic depression, and increase the risk of suicide.
The data is staggering. Children and adolescents exposed to trauma are 2.6 times more likely to develop depression than children and adolescents not exposed to it; this psychological trauma increases the risk of suicide by 2 to 5 times in children, adolescents and adults. This has been revealed during the XXI Lundbeck Seminar "Depression, is it born or is it made?" "The experiences lived in early childhood significantly modulate the way of relating to the world in adulthood. In terms of risk of developing depression, it would be traumas such as the abandonment of a parent due to separation, death or low care, and sexual and psychological abuse, which have the greatest influence," said Alba Babot, a specialist in Family and Community Medicine at the Basic Health Area of ​​La Garriga (Barcelona).
The expert recalled that the psychological trauma derived from experiencing multiple adverse experiences in childhood, especially sexual abuse, quadruples the risk of suffering depression in adulthood and that the more chronic the abuse, the higher the prevalence of lifelong depression It has also indicated that a high percentage of adults with depression have a history of childhood trauma -62.5% compared to 28.4% of healthy people-, which is associated with a worse response to antidepressant treatment or remission, especially if they have suffered abuse before the age of 7. And it is that, child abuse predicts worse results: earlier onset depression, greater risk of recurrent depression, more severe course of the disease and greater chronicity.
Chronic stress and childhood depression
But not all negative experiences result in psychological trauma. As the experts remind us, the question is not what you have experienced, but "how you have lived it". To make this statement, professionals assume that each individual is unique and may have different responses to stress. Some children may be more resilient and overcome adversities, while others may experience greater difficulties in doing so."The psychological profiles most vulnerable to depression are those who find it most difficult to face stressful situations," explained José Manuel Montes, Head of the Psychiatry Section of the Ramón y Cajal University Hospital of Madrid.
According to the scientific literature, a traumatic experience is any situation in which a person is exposed to scenes of actual or imminent death, serious physical injury or sexual assault, either as a direct victim, close to the victim or as a witness. And psychological trauma arises when the person's response to one of these events is highly stressful. In other words, the child or adolescent succumbs to a cocktail of adrenaline and cortisol that occurs when the events he experiences overcome her ability to respond to get ahead. Chronic stress is the one that has this high destructive power in child development.
Some of these negative experiences that children and adolescents experience are beyond any control, such as the death of a loved one or the outbreak of a natural disaster. But there are other factors that trigger excessive stress in children that depend on human will. This is the case of abandonment, loneliness or bullying. The latter is considered by experts as a potentially traumatic event.
Bullying causes invisible scars that affect mentally, but also physically. "The stress generated by situations of bullying can negatively affect brain architecture, especially in areas related to emotional regulation, decision making and memory. This can predispose to mental health problems, such as anxiety, depression, and post-traumatic stress disorder, which can persist into adulthood. In fact, hormonal changes, the most common being cortisol, which mediate the body's reactions to stress are a determining biological factor for the development of depression. But, in addition, chronic stress in childhood can affect the immune system and increase susceptibility to physical diseases, such as heart problems, high blood pressure, obesity and diabetes. It can also influence behavior, causing impulse control difficulties, behavior problems, academic difficulties and difficulty establishing healthy social relationships", indicated Dr. Montes.
Dr. Babot has stressed that childhood trauma can predict the appearance of depressive or comorbid disorders in adults without underlying pathology. But not everyone exposed to high levels of stress will develop depression. "It is the interplay between genetics and environmental influences throughout life that vulnerability to depression in most patients stems from," she commented.
Prevention of childhood trauma
The prevention of childhood traumas is a fundamental task that requires the active participation of society as a whole. One key to achieving this is to create safe and nurturing environments. This means ensuring the physical and emotional protection of children in their homes, schools and communities. It is also essential to promote positive and healthy relationships between parents and children, caregivers and children, and between the children themselves in which emotional support, open communication, setting appropriate limits, building trust and mutual respect prevail. And no less important is the fact of strengthening resilience in children by providing emotional support, teaching coping skills, fostering self-esteem and promoting problem solving.
In cases in which it is not possible to prevent them in time, professionals consider it essential to address trauma early, identifying risk and vulnerability situations to prevent other associated pathologies. And, as a result, offer support systems that provide security, emotional support and effective coping strategies to promote the healthiest possible development of the child. For this, the doctor considers it necessary to "consider alternatives or adjuvant treatments." And she adds that, "presumably, neuroendocrine research can promote optimized clinical care."
Experts insist on not underestimating the incidence and importance of depression associated with childhood trauma, as it requires specialized attention and treatment.