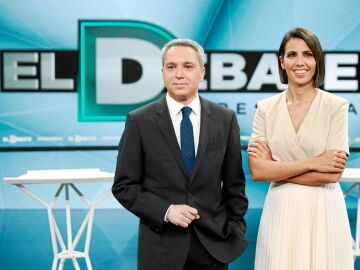 Apart from the public corporation (RTVE), the two main audiovisual groups in Spain, Atresmedia and Mediaset will make an unprecedented display this Sunday, May 28, for the municipal and regional elections.
It will carry out a special coverage 'Antena 3 Noticias', which will carry out a follow-up of the electoral day with Vicente Vallés in charge, who will be pending the last stretch of the voting and, later, will go analyzing the electoral count and the results that the urns.
Likewise, 'La Sexta Noticias' will deploy teams in different parts of Spain to follow the development of electoral day and 'ARV Objetivo 28-M', with Antonio García Ferreras and Ana Pastor, will be aware of everything that happens and will offer the first Analysis from 7:15 p.m.
At laSexta, the results of the scrutiny will be analyzed by a team made up of political scientists Lluís Orriols, Pablo Simón and Sandra León and analysts Manuel Cobo, Angélica Rubio, Ignacio Escolar, Pablo Montesinos and Elisabeth Duval. The director of 'La Sexta Clave', Rodrigo Blázquez, will analyze the electoral results as the counting data becomes known.
As regards Mediaset's coverage of election day, the editions of 'Informativos Telecinco' and 'Cuatro al día de semana' will carry out live broadcasts at community headquarters and town halls in the main autonomous communities. In the midday editions, both spaces will pay special attention to the development of the day through live connections at polling stations, information on the influx of voters and with images of the main political leaders in their appointment with the polls.
Starting at 7:55 p.m., in the second edition of 'Cuatro al día de semana', Marta Reyero and Roberto Arce, through live connections with some of the match venues and the hottest points of the day They will be pending the closure of schools and the first estimates of the election results. Next, 'Informativos Telecinco' will take over at 9:00 p.m., where Ángeles Blanco and José Ribagorda will continue to connect live with the displaced team of journalists and offer the first official data from the scrutiny.
In addition, during the broadcast of 'Survivientes: Conexión Honduras', Ion Aramendi will give way to two live previews of Informativos Telecinco at the moments in which the results of the Municipal Elections are officially announced (around 10:45 p.m.) and the Autonomous Elections (around 11:40 p.m.), in which new live connections will be established with the venues of the winning parties.