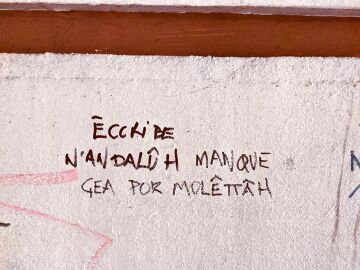 Allow me to imbue these lines with a barely unfounded "Andalusianism". Andalusia is the land of quejío and of feeling in a grand way, of the hectares of olive trees from Jaén and the western from Almería, from Sanlúcar manzanilla and Cordovan salmorejo. It is a place of contrast, of cultural shock, where thoughts have intertwined for centuries and where the exaltation of all traditions is worthy of fervor in the streets, with respect or celebration as a whole. Andalucía is, of course, his accent, the one that Lola Flores promulgated with her pharaonic voice, with which Camarón sang and made history, and which flourishes and varies no longer in each province, but in each town, each individual. The lisping and lisping of Seville or Cádiz coexists with the prolongation of the vowels of Córdoba, and does not lead to anything other than the development of the linguistic variety that Spanish has in these areas. It is the people who are in charge of molding and shaping this speech, in communion with their own development and progress. But all this on an oral level, because if we turn it into writing we already fall into, as we will see, invention and opportunism. "Writing was not born to represent a pronunciation or the diversity of them that exist and will exist, but as a cultural convention to preserve knowledge, information, literary works, and to solve distance communication," Elena explains to this newspaper. Méndez García de Paredes, professor at the University of Seville in the Linguistics department. With this, he qualifies, "nobody speaks as they write and nobody writes as they speak", and that is why the initiative that Adelante Andalucía of Dos Hermanas (Seville) has had is nothing more than an "invented, unnecessary and unfocused" writing, he says the expert. But let's go by steps.
This political party, in full campaign, has launched an electoral program written in [[LINK:INTERNO|||Article|||6345747e0dceb0e4201d6466|||«andalûh»]], that is, with an invented spelling that imitates the Andalusian accent. And he has done it through the "Êttandâ pal Andalûh" (EPA), an unofficial orthographic proposal created in 2018 and that seeks to adapt to Andalusian dialects. They call it «Elêttorâ Program. Eleççione muniçipalê 28-M", and it is as complex to read as it is, believe me, to transcribe. In it, and regardless of the ideas promulgated by this party, one sees expressions such as "lehîl-latura", "çerbiçiô públicô", "hubentûh", "urbanîmmo" or "fîccalidá hûtta y eficiente". A writing, explains García de Paredes, «invented by someone or by a group that, without any legitimacy, has considered it representative of the pronunciation of the speakers… but of which speakers? It is also unnecessary, because it lacks any graphic link for the speakers and voters of Dos Hermanas to whom it is addressed, as well as out of focus, because it does not know the true function of writing».
In this sense, Ramón Gutiérrez, from the Philology Department of the University of Almería, argues that this "elêttorâ program" is an initiative "wrong from the linguistic point of view, and would qualify it as opportunist, even populist", as well as Santiago del Rey Quesada, a professor in the Department of Linguistics at the University of Seville, assures that "it perpetuates a false antagonism between Andalusian and Spanish." In other words, this expert explains that «Andalusian is not a language. Having said this, the selection of graphic variants that evoke phenomena not commonly accepted as exemplary by the Andalusians themselves, is not profitable to achieve the objective pursued by these initiatives: to give prestige to the Andalusian". That is why spelling proposals such as the EPA or the ZEA (Zoziedá pal Ehtudio del Andalú), continues Quesada, «are doomed to failure, because they are based on phenomena that are even sociolinguistically discredited at present. The spelling they propose is strange and incongruous for readers, as it evokes pronunciation that Andalusians do not associate with typically formal communicative situations».
It is a "wrong and even opportunistic" initiative, explains the expert Ramón Gutiérrez
[[H2:«Terraplanismo lingüístico»]]
It goes without saying that, as described at the beginning of these lines, Andalusia is plural, each individual in this land responds to their own tradition and custom, which is why Andalusian speech is also varied: «This program written like this does not represent the Andalusian pronunciation , because this is changing between areas and individuals, "says Lola Pons, philologist and professor at the University of Seville. To which Ramón Gutiérrez adds that they are, "in addition to unintelligible writings even for the Andalusians themselves, imposing a linguistic norm that excludes the various Andalusian languages. What they pass off as Andalusian is nothing more than the speech of Seville, it does not represent the variety of Spanish spoken in Granada or Almería. Therefore, they increase the imposition of Sevillian centralism, which arouses so much reluctance in eastern Andalusia».
Araceli López denounces that "linguistic expression is used as an electoral tool"
The opportunism of this initiative of Adelante Andalucía is no longer criticizable only for its inventive spelling, but also for the main objective they pursue: to obtain electoral revenue. "This worries me as a linguist," Araceli López, also Professor of Linguistics at the University of Seville, points out to this newspaper, "not because it is going to affect the Spanish language in any way, which is unfeasible in the short and medium term, but because it indicates the conviction among left-wing voters that it is worthwhile to claim local or regional linguistic identities, to the detriment of the traditional internationalism of the left». In general, she adds, we linguists "dislike that any form of linguistic expression is used as an electoral tool, because the Spanish language belongs to all its speakers. Languages ​​are constantly changing, but if a differentiated writing system is imposed, it will not be due to specific actions, but because the vast majority of the population chooses to write that way. In this sense, Pons points out that "an electoral program drawn up in this way gets more attention through the boutade and not because of the ideas and proposals that it includes, which is a sign of our times." Therefore, anyone who can affirm or come to think that the spelling of EPA may be a better candidate for communicating via writing than the historical spelling of Spanish, is nothing more than, as García de Paredes defines it, "a kind of flat-earthing." linguistic. Our orthography has gradually and historically spread through literacy campaigns in Spain and America, and therefore it is the only one that is known and acts as a cultural asset in the Hispanic world.