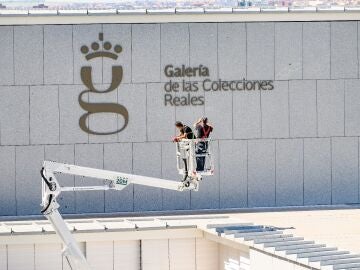 In the final details is the secret. And the quality of one of the great cultural treasures of Spain that, in a few days, will come to light. And for this, today, when marketing and the brand permeate everything, it is time to differentiate and personalize yourself. Be unique. And underline it. Hence, this Thursday, National Heritage finished placing the exterior signage of the Royal Collections Gallery. A "g" 4.80 meters high by 2.4 meters wide that presides over the south façade, on the Cuesta de la Vega.
Since everything is not enough to "let oneself be seen" and identify oneself, in the viewpoint of the cornice of the Royal Palace of Madrid, another large sign indicates the main entrance of the Gallery. According to National Heritage, the letters and logos are made of lacquered aluminum, a material that is somewhat less heavy than iron and that adapts better to changes in temperature. These logos have been made in a factory in Torrejón de Ardoz, using the pressure water jet cutting technique.
The placement, due to its volume and weight, has required the use of an articulated platform with an arm 75 meters long. "Little" big last-minute details.
In addition, the name "Royal Collections Gallery", created by the poet Fernando Beltrán, refers to the architecture of the building and the open and fluid nature of the new National Heritage museum. A space that, surely, in a few years, will dispute popularity and tourists with the Prado or Reina Sofía Museums. The logo, created by Manuel Estrada, winner of the 2017 National Design Award, turns the initial letter of the name into a sign: an open lowercase "g" that is completed with a geometric crown that alludes to the unique and singular nature of the Royal Collections.
The Royal Collections Gallery will be inaugurated on June 28 by Their Majesties the King and Queen. More than 40,000 square meters with paintings, sculptures, armor or tapestries signed by artists such as Velázquez, Goya or Caravaggio.