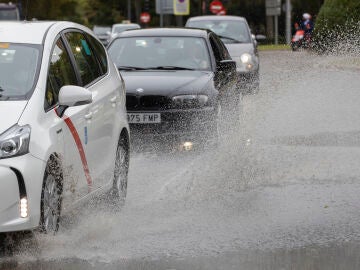 The storms of May come with force to the Community of Madrid. The Madrid 112 Security and Emergency Agency (ASEM 112) has activated the yellow level or "pre-emergency phase" of the Special Civil Protection Plan against the risk of flooding in view of the predictions of the State Meteorological Agency (Aemet) for rain and storms.
The notice, according to the Community of Madrid, will last until 8:00 p.m. tomorrow, Friday, throughout the region.
In its prediction for Madrid, AEMET announces widespread rain and showers for this Thursday accompanied by occasional storms and for tomorrow, Friday, occasional heavy showers and storms in the afternoon and at the end of the day throughout the region.
For the rest of the region, including the capital, these meteorological phenomena are expected to begin at 8:00 p.m. They forecast an accumulated rainfall of 15 millimeters in one hour and in 12 hours out of 40. In the areas of La Alcarria and the Serranía de Guadalajara, the warning will be fulfilled with greater probability in the western half.
INUNCAM is the Plan approved at the end of 2020 by the Community to respond to emergency situations due to flood risk. Said Plan, after an important study of the hydrology in the region and the vulnerability of the populations, identifies and classifies the potentially floodable zones, in different zones. The pre-emergency phase is activated when the imminence of floods with risk to people or property is expected.
This Thursday, nine autonomous communities remain on meteorological alert, all in yellow, in areas of the north and the eastern strip of the country, due to rains that will accumulate up to 30 liters per square meter in one hour in the Valencian Community, along with storms accompanied by hail. .