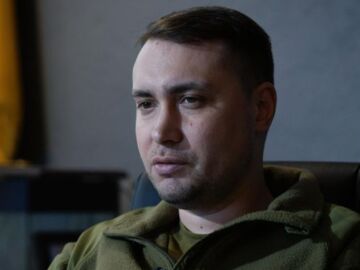 Ukraine plays distraction with Russia and, incidentally, with its allies. While Mykhailo Podolyak, President Volodimir Zelensky's right-hand man, assures that the counteroffensive "has been underway for several days," the head of military intelligence, Kyrylo Budanov, says he has "the basic amount of weapons and other equipment" to put into operation. the operation goes on. "I can only say that it will start soon," the latter replied in an interview with the Japanese public broadcaster NHK.
Kyiv forces already have British long-range Storm Shadow missiles and German-made Leopard main battle tanks. Although, for Podolyak, the F-16 fighters committed last week by the president of the United States, Joe Biden, will be the differential factor. Zelensky's top aide said in an interview with Italian public television RAI that the war "would have come to an end" a year ago if he had received US warplanes sooner.
Podolyak explained that the weapons supplied by his allies will be used "to destroy Russian positions in the territories occupied by Moscow, including Donbas and Crimea", and made it clear that "the actions have already begun", referring to the expected counteroffensive. However, the person in charge of controlling the communication policy of the Government of Ukraine denied any involvement in the incursion of militias opposed to Vladimir Putin in the border region of Belgorod.
"It is very unlikely that the decision to assault the Russian region of Belgorod was carried out without the participation of Kyiv," Ivan Fomin, a researcher at the Center for European Policy Analysis (CEPA), explains to this newspaper. Military analysts believe that the offensive on Russian soil served two purposes. At the military level, it forces Russia to divert its troops on Ukrainian soil in anticipation of the counteroffensive. Politically, it destabilizes the Kremlin and reflects Putin's vulnerability.
The clashes in Belgorod between the militants and the Russian security forces continue despite the version of the Ministry of Defense led by Sergei Shoigu, who claimed to have expelled the pro-Ukrainian armed groups from the country. On Wednesday morning, the governor of the border region, Viacheslav Gladkov, confirmed that the attacks with a "large number" of drones had caused damage and a fire in a gas pipeline.
"Many civilians are still under Russian occupation and we cannot waste any more time," Budanov said. Time is precisely what Zelenski asked for in mid-May before starting the counteroffensive. The Ukrainian president embarked on a successful European tour to speed up arms supplies from allied countries. Now, Kyiv sows confusion. Specialists have assumed that Ukraine will not reveal its cards or announce the start of the operation, but that it will be announced with the first tangible results.