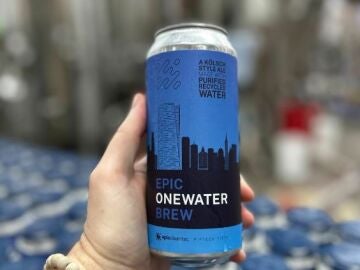 The recycling of water in the urban environment is essential to maintain this scarce natural resource. Through treatment plants and sanitation processes, water from domestic use can be reused safely.
With this idea in mind, a company in the United States manufactures a craft beer with the "grey water" of a residential building. The so-called "grey waters" are those coming from washing machines, dishwashers, showers, baths or sinks and differ from "black waters" in that they do not contain human waste, such as urine or fecal matter.
Epic Cleantec is a wastewater recycling company located in San Francisco, the first US city to pass water reuse legislation in new construction buildings. To demonstrate that the purified water from its recycling systems is safe to drink and has the same taste and properties as natural water, Epic Cleantec decided to create the world's first beer made from household wastewater. Its name: Epic OneWater Brew.
For its preparation, "grey water" is used exclusively, originating in the laundry and showers of a luxurious apartment building in San Francisco.
The Fifteen Fifty, image of the can of this original beer, has 39 floors and has a domestic water reuse system designed to recycle some 28,400 liters of water per day. This greywater, specifically collected from laundry and showers, is treated and then reused for flushing toilets and urinals within the building. However, a portion of this treated water is used to brew its Kölsch-style beer at Devil's Canyon Brewing plant.
According to the company, reused water that has undergone advanced treatments is not only safe to drink, but is often even cleaner than some of the water we commonly consume.
Aaron Tartakovski, co-founder and CEO of Epic Cleantec, has explained that the taste of his beer is similar to those made in a traditional way. "A lot of people were skeptical of the project or hesitant to try it, but I would say 99% of them were a little apprehensive but once they tried it, they were excited."
Epic OneWater Brew is not for sale at the moment, but it is distributed at events to raise awareness of the need to recycle water.
The data provided by Epic Cleantec show that residential buildings use 14% of all drinking water and almost none reuse it. The manufacture of beer would be an incentive to recycle all that liquid that is wasted.