SIU:, ZENA:, TYRA: and MARTY:. This is the name of the four members of the South Korean pop group MAVE:, who debuted last January with the song PANDORA. They are between the ages of 19 and 20 and each comes from a different country, from the United States to Indonesia, although they all have Asian features, as is customary in the South Korean entertainment industry. His first video clip exceeds 20 million views, while his Spotify account has more than one and a half million monthly listeners. In March, they appeared on the music show Show! Music Core, broadcast on the MBC television channel, like any k-pop group with a certain impact that comes to promote their new single. The members have participated in TikTok challenges and have even celebrated 100 days since their debut. However, despite the figures and the achievements that accompany them, what may surprise those who are not yet familiar with them the most is that they are avatars. Thanks to artificial intelligence, 3D technology, augmented reality and voice synthesis, these virtual singers can pass for a conventional pop group, sometimes difficult to distinguish from one made up of humans, especially in what is refers to the song
The name MAVE: comes from make new wave (create a new wave) or meta wave, as the group has the "ambition to create a new wave in the k-pop scene during the metaverse era." It is common for the names of Korean pop groups to hide a meaning related to the members, what they intend to achieve with their music, or what they want to convey. In the same way, the names of their fans, which are also established by entertainment companies, have a meaning and a relationship with the group in question. In this case, the fans of MAVE: are called MAZE: (labyrinth), because, together with the group, they will "create a new path, a labyrinth, in which no one has ventured yet, with the unshakable belief that they will find a way out while stick together."
Sung-Ku Kang, director of technology at Metaverse Entertainment, the company in charge of the group, explains to this newspaper via email that the project consists of the same planning and production as those carried out with real idol groups. . "The members of the company are experts in various areas, such as video games, entertainment, music… And they have a deep understanding of how to achieve good results and create beloved characters," he explains.
But what is beyond the reach of human idols that a group of avatars can offer? As Kang explains, "as a virtual group, you can choreograph at a speed and level of difficulty that would be difficult for a real singer to achieve, and all kinds of imagination can be called upon when creating music videos." Furthermore, he points out that members of mainstream groups often have different talents and there is a disparity between them, but virtual idols don't have to manage that. Of course, they also have an obvious advantage: being in several places at the same time. "They can perform in Korea and an hour later in the United States, or directly in front of fans all over the world at the same time," says the manager.
However, when watching them perform, the first question that the viewer may have is whether there are real young singers behind so much technology. When it comes to appearance, their faces are not based on any specific real person. They created "idol-type looks, mixed results, and manually modified them." The origin of their singing abilities lies in a mixture of the voices of real voice actors and what is generated by artificial intelligence, so that they are "trained" to speak like those actors do. Sung-Ku Kang explains that they are going to continue using that mix, also deciding based on the situation, but with the aim of increasing the use of voices generated by artificial intelligence.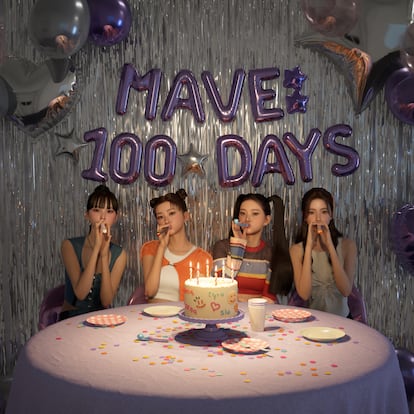 The members of MAVE:, in addition to recording content, can interact in real time. MAVE:
It may take more work to get choreographies that resemble the dances of human idols. "It takes a lot of effort to make a virtual artist move as naturally as a human. To make movements look natural, we use motion capture technology to accurately record real people's movements, and simulation technology to make clothing and hair move naturally with activity as well," says Kang. . But all this would not be achieved without a good job on the recording: to shoot the PANDORA video clip, a studio eight meters high and 20 by 20 wide and long with equipment for motion capture and cameras of all kinds was used. , in order to record the movements in the same way as in a real music video. "That allowed us to see how the actors interacted naturally with the cameras and do post-production and editing with what we had recorded," adds the Metaverse manager.
The members of MAVE:, in addition to recording content, can interact in real time. Kang clarifies that it is not something very different from what virtual YouTubers do. "Our goal is to create a long-term, memorable, emotional connection with each fan, rather than just having a chat bot service," like the one available right now, he adds. The technologies needed to create this group include, in addition to virtual intelligence and other techniques mentioned, machine learning, 3D modeling, different simulation techniques to control facial and body movements, augmented reality and virtual reality, especially everything for virtual concerts and for interactions with fans, data analysis and cloud technologies.
Metaverse Entertainment, a subsidiary of the video game developer Netmarble, is the company in charge of the project, which also includes Kakao Entertainment, the entertainment company that owns the 'Korean WhatsApp', Kakao Talk, and various agencies of k-pop groups. and of actors, of the music streaming service Melon and of a huge platform of Webtoons, comics in vertical format that are very popular all over the world, but especially in Asia. More than a hundred professionals work in the creation and activities of MAVE, and many of them have worked or currently work with real-world artists. PANDORA was composed by Maxx Song and Kyler Niko, who have produced songs for some of the best-known groups in the industry, such as Seventeen, Red Velvet and Monsta X; the director of the video clip, Flipevil, was in charge of some of IU, the most successful soloist in the country; and the choreography was carried out by Freemind, choreographer of two of IVE's biggest hits.
MAVE: it is not the first South Korean musical group formed by avatars, but it is the one that has had the most impact to date. In 2021, also in Korea, Superkind debuted, in which only one of the members is an avatar and, in the case of the members of Eternity, who debuted the same year, the company Pulse9 used the technology it calls deep real , with which he claims to create "realistic faces regardless of race, age or gender." However, where virtual singers originated was in Japan, in 2007, with the creation of Hatsune Miku, a hologram that has even given live concerts.
You can follow EL PAÍS Tecnología on Facebook and Twitter or sign up here to receive our weekly newsletter.