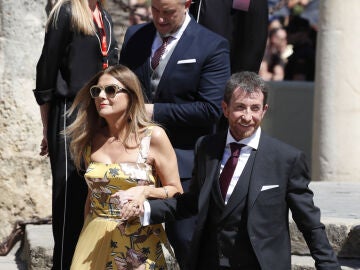 A lot of play is still taking place in the "official presentation" of Ana Soria, Enrique Ponce's partner, in "El Hormiguero" by Pablo Motos. But few know how the Valencian presenter has managed to score that goal. The answer is simple: his wife, Laura Llopis, is a friend of the future lawyer.
This is revealed at least by the photos of Llopis and Motos having dinner with Ponce and Soria. But who is the presenter's wife, who is also close to Sergio Ramos and Pilar Rubio?
Llopis is the one who personally supervises the script of the Antena 3 program and who decides everything that her husband, Pablo Motos, says.
Motosy Llopis have been in a relationship for 25 years, very discreet, since she does not like being the center of media focus. Motos and Llopis met in 1997, when he was presenting a program on Onda Cero Valencia and she was part of the production team.
«The greatest contempt that has been done to you in life is nothing compared to what she did to me. One day I thought that she couldn't die without kissing her, but the opportunity came to me thanks to the cold she was in the radio studio where we worked. She commented that she was very cold and I ran out and bought her a space heater. So, she looked at me for the first time, I looked at her and the crush arose, "Motos confessed to Mariló Montero about how they met.
He also recounted how his first kiss was about to end in a traffic accident. "We entered a roundabout and I asked her if she liked it or not," the presenter of El Hormiguero narrated. «She told me 'well'… And I no longer took the roundabout, I went straight, stopped and kissed her».
Pablo Motos and Laura Llopis were married in secret, since it did not transpire, and civilly, which was celebrated with a paella. For her it was her second marriage and he brought to the new marriage two daughters who also work on the hit show.