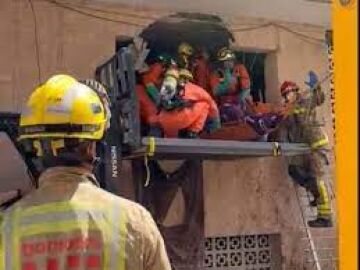 A 48-year-old man weighing 250 kilos with Diogenes syndrome who was rescued this Wednesday from an apartment in El Prat de Llobregat by the Generalitat fire brigade had not left home for three years.
Despite his unfortunate situation, since the firefighters removed kilos of garbage from the home, the neighbor did not receive any type of attention from the Social Services.
The El Prat City Council has recognized that they detected a public health problem that was solved 10 years ago: "Since then we have received three calls but he did not allow us to enter his home", explained the head of Social and Community Action of the City Council from El Prat, Arnau Garcia. "We had no indication that would motivate us to open another file," he says.
The City Council itself is surprised at not having found signs of unsanitary conditions in recent years after viewing the images. The neighbors who witnessed the evacuation assure that the smell was "unbearable" and maintain that the man "did not allow himself to be helped."
It was the victim herself who called telephone number 112 first thing in the morning, advising that she was not feeling well. When the rescue team arrived at the scene, she was unable to access the property through the door due to the amount of accumulated garbage that was there.
It was necessary to break a window and prop up the roof in order to enter, proving that the man lived in very adverse health conditions. He was rescued through the same window with a crane in an operation that lasted several hours.
The El Prat City Council assures that it was not aware of the situation of this neighbor and has made itself available to emergency teams to help reverse his situation.