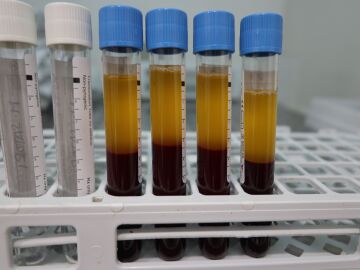 When she was 9 years old, Cristina suffered a traffic accident that caused her a complete spinal cord injury for which she is now in a wheelchair, as well as a loss of sensation in her body, from her chest to her feet. Currently, at the age of 14, he has adapted perfectly to the new situation and leads a life like that of any other person his age, however, as is usual in people with difficulty or inability to move and who have to stay in the same position for many hours, subjecting parts of his body that we should not lean on and, therefore, are not prepared to withstand constant pressure, a couple of years ago he developed an ulcer on his sacrum from being there for a long time sitting in the wheelchair and this was a real limitation for her.
"The ulcer did not cause her pain, because she has no sensitivity in the area, however we tried many treatments to try to close the wound and whenever we succeeded, it would open up again shortly after, with the risk of infection that this it entails. Actually, it never really closed," explains her mother, María, who remembers that "with time, things began to get complicated and that was when they suggested we go to a plastic surgeon to assess the possibility of carrying out a surgery to solve the problem.
getting worse
This type of intervention is aggressive, since it requires a graft from skin from another part of the patient's body, and there are also no guarantees that it will be successful, so the specialist advised the family against this option , but the treatments continued without effect, while the state of the ulcer continued to worsen, to the point that it ended up creating a cavity in the wound area. "The ulcer was eating the skin from the inside and a hole was made," explains María, who was already beginning to be desperate when she verified that none of the solutions proposed by the specialists they consulted, from centers as cutting-edge as the Guttmann Institute or Vall d'Hebron, for example, worked.
"The desperation was maximum. We had spent two years with the ulcer closing and opening, but it always closed falsely," says María, who in this regard points out that "what we needed is for the skin to regenerate with quality." Thus, the mother heard about the use in traumatology of Platelet Rich Plasma (PRP) therapy for cartilage regeneration and considered that it might also be effective in terms of skin regeneration to achieve closure and heal pressure sores and it was then that he went to the Cugat Institute, where he began treatment at the beginning of December.
innovative treatment
In this regard, Dr. Montse García Cugat, president of the García Cugat Foundation and head of the regenerative medicine unit at Hospital Quirón Salud Barcelona, ​​explains that "Cristina's is the first case we have treated for pressure ulcers, but we have had others due to wounds whose edges have not just joined, always due to a lack of tissue so that they could join together, and if the treatment with PRP was effective in those conditions, it had to be effective in Cristina's as well". Regarding the technique used to treat it, the doctor comments that "it consists of extracting a blood sample from the patient, which is processed to extract the cells that do not interest us, such as red and white blood cells, and keeping the serum and platelets, because that's where the signaling proteins are, which are the ones that, when you inject them, go to the site of injury and activate the cells that lead to tissue regeneration"
In the case of Cristina, the treatment was applied in two different modalities: coagulated, as if it were a cream that releases these proteins as the body reabsorbs the clot, and in liquid form, injecting it into the edges of the wound. . In just two months and after half a dozen sessions, Cristina's situation changed radically.
"The cavity healed very quickly and, although the superficial area cost a little more, at the end of January the ulcer was already closed and it is the first time that we have not reopened for so many months," says María. And it is that, as Dr. García Cugat comments, the treatment with PRP is based on our "biological potential". "When very primitive living beings, such as lizards, break their tails, they have the ability to grow an identical tail. We also have this potential, the fetus has it, because the entire reaction of the immune system is not yet fully matures and then, this so primitive of living beings, has it", explains the doctor, who in this regard points out that "if we did not have the immune system as evolved and with as much information as now, it would too, so that Putting these signal proteins, which are growth factors, in the cells reminds them of this and that's why they work."
In any case, Cristina has already seen the ulcer problem solved which, as her mother assures, "was even more limiting than being in a wheelchair." "Due to this injury, my daughter had to rest for several days to try to heal the wound and that meant not sitting down, so she had to stop doing many things, something that has not happened with the wheelchair ", he assures.