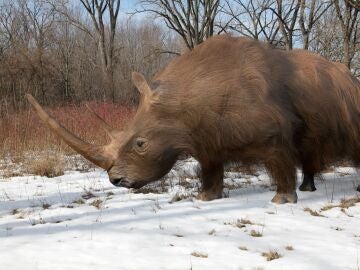 The woolly rhinoceros lived in Burgos during the Late Pleistocene. This has been revealed in the publication of an article in the impact journal "Earth and Environmental Science Transactions of the Royal Society of Edinburgh", by Diego Arceredillo, a professor at the Isabel I University, in collaboration with Carlos Díez Fernández, from the University of Burgos, and Jesús Frabcisco Jordá Pardo, from the UNED.
Throughout this article we present the results of a paleontological study that analyzes the remains of the woolly rhinoceros, "Coelodonta antiquitatis", which were recovered in the La Mina cave in Burgos, near the town of Hortigüela.
La Mina is one of the classic sites of Burgos prehistory along with Cueva Millán and La Ermita. Some deposits, which complete their records with species such as the brown bear, the cave hyena, the chamois or the lynx, together with various pieces of lithic industry made of quartz and quartzite.
Thanks to the discovery of several woolly rhinoceros dental pieces and their dating through the racemization of amino acids, it has been possible to date a date: 52,500 years, the oldest of this species for the Upper Pleistocene.
A record that carries important implications for understanding the access route to the Castilian plateau, not only of this species, but also of the different human groups that inhabited these lands and that has allowed the definition of a new migratory wave not previously described. From now on, La Mina can help researchers to complete the migratory movements of this species throughout the Middle Pleistocene and Upper Paleolithic in the Iberian Peninsula.