EL PAÍS offers the América Futura section open for its daily and global informative contribution on sustainable development. If you want to support our journalism, subscribe here.
That Agustìn Varas (15 years old) was able to enjoy a casserole –a traditional Chilean dish with broth, chicken, corn, pumpkin, potatoes- this afternoon has been thanks to a chain of wills that allow other students to share with him a hot dish prepared with care and healthy products.
The route started early. It was 9:00 in the morning when Nyssmi Cordero loaded folded cardboard boxes to his truck. This young recycler, the first certified in the commune of Cerro Navia, a commune in the northwest of Santiago de Chile, went to the municipal Food Bank to remove all the packaging material that was discarded to take it to a recycling plant where they can be give a second life A trade that began during the pandemic and that, with the support of the municipality, she managed to transform into her livelihood.
Next to his vehicle, dozens of boxes full of colors await: those of zucchini, peppers, onions… They have arrived at this winery that is facilitated by the company Megacentro for the Food Bank to work, the first managed by a municipality and which It was born as a local initiative in 2019, in the midst of the Chilean social revolt, when there was hunger in the most vulnerable areas of the country.
"It was a tough year for our country," says Mauro Tamayo, mayor of Cerro Navia. A year of confrontation of models, of society, of principles that supported a development that left and still leaves many people behind.
Boxes with vegetables stacked. Sofia Yanjari (EL PAIS)
Tamayo remembers how in the context of the social outbreak, common pots were being organized through neighborhood groups that were organized to do the shopping together, for which the municipality sought a strategy to join this work. Today the delivery of food is made directly to the organizations, but also to the microbanks, which, for Tamayo, is more efficient. "The neighbors themselves are the ones who know who is in most trouble, who needs the most, and a horizontal logic of solidarity is being created, not only from the municipality, but also among neighbors, and this is very powerful," he affirms.
It is 10:00 in the morning on a Tuesday and Javiera Villarroel, who took over as head of the bank in 2022, walks through the corridors of the warehouse to organize the day's deliveries and withdrawals and fill out dispatch orders detailing the content of each shipment of food. This is where the products delivered by suppliers, supermarkets, private companies and producers arrive. They were discarded for various reasons, but none nutritional, so this bank distributes them to families and organizations that can turn them into a hot dish, a snack or a snack.
"We want to put the idea that ugly food is not necessarily bad food. I get a lot of fruit that should have been exported, but it didn't because of its size. That is, because they do not meet the standards," says Villarroel.
Surrounded by boxes and shelves, she explains that this is the reason why these foods could not be sold or marketed. Dairy products or meats that have a close expiration date have a similar fate. Likewise, thousands of boxes of cereals, tea, and chocolates arrive that are broken on the outside. Or canning jars that have dents. Of course – and in this it is emphatic – nothing is delivered that is not completely closed on the inside. The goal is for this food to have a different destination than the 931 million tons of food produced for human consumption that is lost or wasted each year, according to data from the report prepared by the United Nations Environment Program ( UNEP) presented in 2021.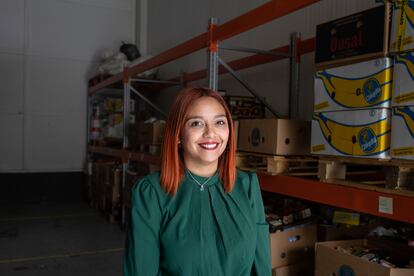 Javiera Villarroel, director of the food bank of the Cerro Navia commune.sofia yanjari (EL PAIS)
The Food Bank became essential during the pandemic. They were difficult months in which many families that were already on the line ended up in an even more precarious situation, as a result of the restrictions of the health emergency. But also, in this commune, in which more than 132,000 people live, according to the last national census carried out in 2017, there is no supermarket. The five that existed closed their doors forever after the successive looting and fires that affected them during the social outbreak.
Villarroel says that he is interested in access and democratization of food. "The fact that there are no supermarkets means that there are certain products that people cannot access," adds the head of the Food Bank.
At 10:52 in the morning Ramón, the truck driver leaves the warehouses for the Dossetto company. Dozens of boxes display vegetables that did not pass quality controls to be delivered to large brand supermarkets such as Walmart, Unimarc or Cencosud. A crease, a stain, a very soft or very dry texture are sufficient reasons not to be delivered to your customers. Red and green peppers, cucumbers, squashes, sweet potatoes and basil that are discarded because they do not look perfect can complete boxes of up to 200 and 300 kilos per day.
"Seeing a pallet with merchandise that is being lost is a crime, it is a sin," says Juan Pablo Natalutti. Dossetto's production manager says that his company is aware of all the facets that these foods can have. "It doesn't make sense that we are throwing away products that can be used, because, in fact, they are not only used to deliver it to people, but it also has an end point in what is compost", says Natalutti.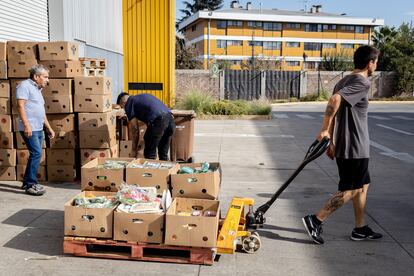 Food bank workers classify products in the Cerro Navia commune. Sofia Yanjari (EL PAIS)
One of the incentives that private companies have to join this mission is the certificate that the municipality delivers in exchange. Thus, the price-cost of each donation will be reflected in a tax reduction. "Sometimes I have offered the certificate, and companies are not interested in receiving this tax incentive. They do it for a matter of awareness with the environment and with the community. In fact, Dossetto does not ask us for a certificate", says Javiera Villarroel.
pedagogy of love
Wearing a kitchen apron, teacher Kuntidevi Garcés stirs the steaming pot of lunch that will feed 16 people. In the next room, a history teacher reviews the latest lessons for students with educational lag between the ages of 10 and 17, of different academic levels, who prepare free exams and that Apis Educa, a non-governmental organization, supports as part of its mission. to level them so that they can reintegrate into the traditional education system.
The hours in which the classes are taught at a social headquarters in Cerro Navia coincide with breakfast and lunch, which is why the NGO has had to implement a system where all its members, teachers and social workers, have had to assume roles beyond of his profession. They take turns cooking and preparing a plate of food for young people who would otherwise have to face their school day on an empty stomach. The daily menu has changed in recent months: the Food Bank delivers every week a variety of products such as chicken, vegetables, desserts, fruits, snacks and other foodstuffs that many of the students find exotic.
A few minutes after 1:00 in the afternoon, Agustín Varas finishes having lunch. He enjoys the food that is offered to him daily and although he is not vegan, he is excited to have had the opportunity to try these products that, although they always caught his attention, were prohibitive.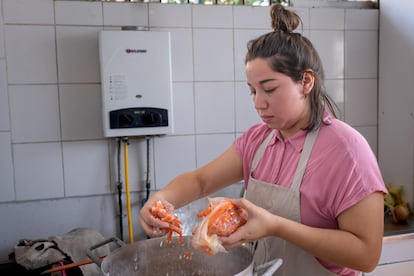 Maritza Matamala prepares lunch with the products delivered by the Cerro Navia food bank.sofia yanjari (EL PAIS)
"I speak of the pedagogy of love. If not, all the content does not enter and is a dead letter. You have to make a link before that. And the bond is made by showing that I care about you and what you're eating. If you're fine, if you feel bad. If you are sorry When that link is created, I can only enter with the content", says the teacher Garcés.