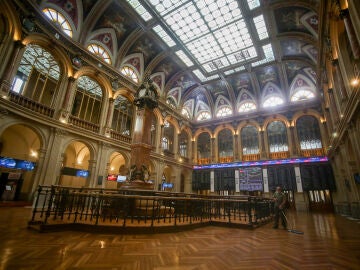 The IBEX tries to withstand the downward pressures. The positive references that come to us from Wall Street contain the sales on the European stock markets. The national team has not had an easy day today. With the publication of its GDP data, Germany has started the day confirming the entry into an economic recession. Furthermore, no agreement has yet been reached regarding the increase in the debt ceiling in the US. The deadline for possible non-payment is approaching and this translates into turbulent sessions where for the moment the IBEX's objective is to hold 9,100 points.
The banking sector and the tourism sector have stood out today over the others. Companies like IAG or Amadeus have behaved very well and are consolidating their annual earnings, with more than 30% in both cases. The banking sector has also shown a good face with all the values ​​closing in green with the exception of Bankinter. The rise in the price of industrial metals along with an approval of 150 million to distribute dividends makes Acerinox the most bullish of the session with almost 2% gains. Entities belonging to a more defensive profile such as Rovi or Grifols help mitigate the wave of sales and add to the index.
The dollar remains constant with its recovery against the euro, once again trading at $1.07. Gold has not moved significantly for a week and remains around $1,960. It is not ruled out that it recovers its upward trend.
A barrel of oil is stuck at the levels of $76 in Brent and $72 in WTI. The barrel of crude oil may again approach annual lows due to fears of a slowdown and the prospects of lower consumption.
In the crypto asset market, bitcoin has continued to decline and is already at the $26,500 barrier while Ethereum is trading around $1,800.
Felipe Fernández, XTB analyst