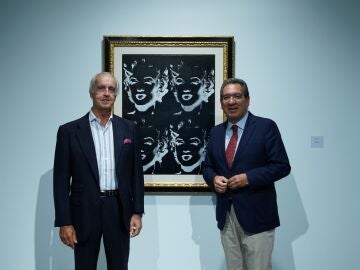 The Cajasol Foundation has inaugurated this Wednesday in the Velázquez and Murillo Rooms of its headquarters in Seville the exhibition 'Contemporary works in private collections', an exhibition curated by the gallery owner Pepe Cobo and made up of more than 30 great works from private funds that include painting, engraving, sculpture, installation and audiovisual.
A total of 16 artists, creators of international reference from different disciplines and nationalities, including Dan Flavin, Sol Lewitt, Mario Merz, Sigmar Polke, Robert Rauschenberg, Gerhard Richter, Ed Ruscha, Robert Smithson, Francis Picabia, Douglas Gordon and Phillip Parreno, as well as promoters of their respective currents, such as Andy Warhol or Robert Mangold for the Pop Art movement and abstract minimalist painting, make up the exhibition, according to the Foundation in a statement.
Among the authors, three Spaniards stand out, such as Julio Romero de Torres, Antoni Tàpies and Antonio López. The president of the Fundación Cajasol, Antonio Pulido, has pointed out that the exhibition "is part of a great cultural project, an ambitious commitment to the art of our time that the Fundación Cajasol is going to deploy throughout Andalusia over the next three years".
For his part, Pepe Cobo stressed that it is home to "the artists who have built the history of the second half of the 20th century".
'Contemporary works in private collections' is one of the highlights of the Entity's spring-summer cultural programme. The exhibition will be open until August 19 and can be visited from Monday to Saturday, from 11:00 a.m. to 2:00 p.m. and from 6:00 p.m. to 9:00 p.m., while it will remain closed on Sundays and holidays.