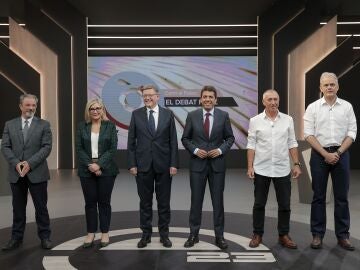 Tense, sometimes harsh and with many readings. Two hours of debate of the candidates for the Valencian Generalitat held this Thursday in ÁPunt in which the candidates for the Presidency of the Valencian Generalitat have confronted their proposals.
The block on the left has kept its forms and there have only been a few exceptions in which they have attacked each other. Héctor Illueca (Unides Podem) has insisted that only his party guarantees that the policies of the Valencian Government do not surrender to "the powerful". Joan Baldoví also wanted to differentiate himself by remarking that Compromís is the only party that does not have to report to a superior in Madrid.
The PP candidate, Carlos Mazón, has focused his attacks on the PSPV candidate, Ximo Puig, who has told Mazón that he should worry about "hell" after Mazón has insisted on several occasions that the socialist had failed to comply until a hundred promises and has insisted that the Valencian Community lives in "hell".
For his part, from Ciudadanos, Mamen Peris, has moved comfortably distributing criticism and reproaches to the right and left and, without a doubt, he has stood out for the accessories that he has been taking out to reinforce his speech.
As regards, the Vox candidate, Carlos Flores, has been questioned on several occasions for having been sentenced with a final sentence for psychological abuse to such an extent that Peris has demanded that no one agree to a government with him.
In his golden minute, Carlos Mazón has asked for a vote to end the "propaganda of those who have done nothing" and has promised to solve the collapse of Health, for citizens to reach the end of the month by lowering their taxes , freedom in education and above all, to those who "do not want to give a blank endorsement to Pedro Sánchez".
For his part, Carlos Flores, has denounced that Vox has been ignored these last four years and now attacked in the elections. From now on, he has assured that Vox will give the answer to the problems of the Valencians.
Joan Baldoví has ​​assured that the Valencian Generalitat was "sunken" eight years ago and has promised to give a new impetus to the Generalitat, "without receiving orders from Madrid".
Ximo Puig has promised to continue advancing in the next legislature as he has done these four years, while Mamen Peris has defended that only Ciudadanos guarantees that there is no going back with a government of "PP and Vox" or that a "third Sectarian and radical botanical".
Lastly, Héctor Illueca remarked that voting for Unides Podem guarantees that "the past will not return" despite the fact that "we have very powerful adversaries".