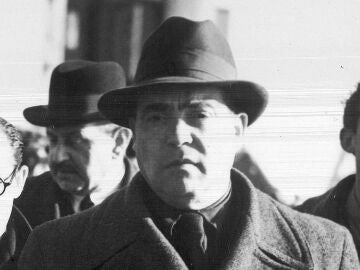 "Between a communist and a traitor there can be no relationship of any kind," Santiago Carrillo wrote to Wenceslao, his father. "I am a communist," the letter continued, "and you are a man who has betrayed his class, who has sold his people." The letter was dated in Paris, May 15, 1939, and was published by the party press. His father's "sin" had been to participate in Casado's coup against Negrín to agree to surrender with Franco.
Wenceslao, hurt, replied with a private letter to his son. Nobody knew of its existence until years later when Fernando Claudín brought it to light. The father addressed "Mr. Stalin" in it. He wanted to show that his son was subject to the Soviet dictator. He confessed the pain he had felt when reading those insulting lines. It was a "stab" "that reached the" heart ", he said. He did not avoid justifying himself. He had to understand that the coup leaders "did not have the soul of slaves and we were at the service of our country, not of Russia." For his son, Santiago, it was late. He was already "enslaved", because if he hadn't been he would never have signed that letter calling him a traitor.
The two Carrillos did not see each other for decades. They were ignored. The pain was deep. Alone on his deathbed, Wenceslao received a visit from his son. The hug must have comforted the soul of his father, who died on November 7, 1963. Santiago, on the other hand, never corrected himself. He always believed that his father had been a traitor. In his "Memoirs of him", when Stalinism had already disappeared, he ratified the letter saying: "I would not cross out even a comma today."
Wenceslao's life was like that of many left-wing leaders of the time. Despite being born in Valladolid in 1889, he began working as a cabinetmaker as a child in Gijón, and soon after in a metal kitchen factory. Very young, only 22 years old, he was elected secretary of the Society of Iron Workers, and joined the PSOE.
He was always linked to Largo Caballero. When Santiago was two years old, in 1917, his father participated in the revolutionary strike together with the socialists. He went to jail, albeit for a short time. Santiago affirmed much later that his first memories of him as a child were of his father leaving home accompanied by the Civil Guard. That didn't last. In 1923, with the help of his friend Largo Caballero, he participated in the corporate structure of the Primo de Rivera dictatorship. That same year, Wenceslao, with a good position at UGT, settled in Madrid and began working on "El Socialista." Santiago always said that he had a warm family atmosphere at his home in Cuatro Caminos, where he attended a good school, the Grupo Escolar Cervantes. It was his father who got him his first job, at Gráfica Socialista, the PSOE printing press. Pure nepotism. Every Sunday, the Carrillo family ate with the Largo Caballero family. Thus a very close bond was forged that lasted until the Civil War. Santiago was the socialist politician's protégé, and in his shadow he rose in the Socialist Youth.
spanish blood
Wenceslao consolidated his political career. He was a councilor and deputy for the PSOE, applauded its Bolshevization and followed "Spanish Lenin" in the 1934 revolution against the Republic. He was arrested for his involvement in that uprising, and released in February 1936. The Popular Front ran in those elections promising pardon for the coup leaders of 1934 and complied. By then, Santiago was already secretary general of the Youth, with which he would go in March 1936 to the communist universe under the orders of Moscow.
At the outbreak of the war, Wenceslao was appointed Undersecretary of the Interior and General Director of Security in the Government of Largo Caballero. In November 1936, the rebels arrived in Madrid. Bad news for the revolution. Santiago then joined the PCE and was appointed Counselor of Public Order. Then the genocide of Paracuellos and Torrejón took place.
Starting in 1937, while Wenceslao helped the government direct the war, Santiago dedicated himself to organizing and extending the PCE throughout all the republican structures. In March 1939, with everything lost, the father joined Besteiro in Casado's coup against Negrín which, it was said, was following Stalin's orders to prolong the conflict beyond what was necessary. Spanish blood to satiate the European ambition of the communist dictator. Defeated, Santiago disowned his father as a "traitor." Wenceslao lived a sad exile, with senseless political and union charges, until he died in Charleroi, Belgium. Yes indeed. At least he got the hug from his son.