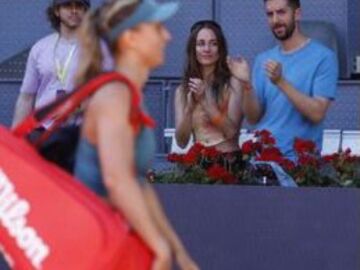 Paula Badosa will not be at the Roland Garros in Paris that begins on May 28. Without a doubt, she is dealing with a sensitive casualty since she was doing a big clay court tour. The tennis player suffers a stress fracture in the L4 vertebra and will be out between eight and twelve weeks, so she also misses Wimbledon, which begins on July 3 of this year. It all started with her fall during the match against Ons Jabeur in the Masters 1000 in Rome.
Badosa was a few days ago in La Resistencia with Broncano. "I've always wanted this question a lot. We've been making the joke for two or three years and I always said: 'my dream, my goal is to have more than you' and, finally, I can say that I have more than you," said the Spanish number 1. The audience applauded her and she earned recognition from the interviewer, who got up to shake her hand.
Regarding the number of sexual relations in the last month, Paula also hesitated to Broncano "I'm having a good month. It's part of the physical preparation; cardio…" she replied with a laugh. "I trained you. I don't want to give myself credit. Here you are the great one… but I trained you a little" the comedian joked.
"You're welcome, they would have to give me a small percentage… 0.5%," he said. "I think I've seen you without a tracksuit very few times, it may be the third or fourth time," Broncano told Badosa, who spoke of aspects that seem to be taboo in the world of sport, such as menstruation. "It influences a lot. People are not aware, and I train based on how I feel in that aspect, with more or less energy," he said.