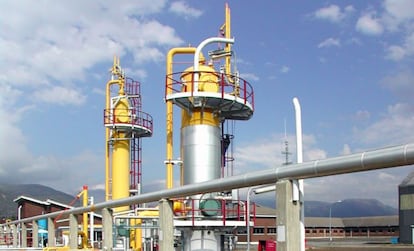 Gas warehouse of Serrablo, of Enagás.
The price of a barrel of Brent oil for delivery in July ended this Thursday in the London futures market at 76.26 dollars, 2.70% less than at the end of the previous session. In today's session, after opening lower at 78.22 dollars, the barrel marked its daily minimum at 76.02 and its maximum at 78.50 dollars. The North Sea crude oil, a reference in Europe, ended the day in the International Exchange Futures with a decrease of 2.12 dollars compared to the last negotiation, when it closed at 78.38 dollars.
With this, since the beginning of 2023, the barrel has experienced a decrease of close to 8% compared to the 82.26 dollars at the end of 2022, the year in which it finally experienced only an increase of 5% despite the upward impact of the war in Ukraine. .
For its part, Henry Hub natural gas futures, a benchmark in the United States, fell 3% to $2.48 per million British thermal units, while Dutch TTF futures for delivery in June, which serve as reference in Europe, they are located at 25 euros per megawatt hour (MWh), 10.43% below yesterday Wednesday. The TTF marked its daily maximum at 28.5 euros per MWh, after opening up close to 28 euros. It's down 15% in the last week. In his case, since the beginning of 2023 he has accumulated a 70% drop, since the TTF reached 83.83 euros at the end of last year, the year in which he registered his historical record above 300 euros.
The reason for today's collapse, according to analysts, is to be found in the German recession. As confirmed this Thursday by the Federal Statistical Office (Destatis), which has revised downward the GDP data for the first three months of the year, to 0.3%, instead of the initially estimated stagnation, which means linking two consecutive quarters of declines in activity, after 0.5% in the fourth quarter of 2022. In addition, energy prices are coming under downward pressure due to the fact that European oil and gas warehouses are at maximum capacity due to low demand.
Follow all the information about Cinco Días on Facebook, Twitter and Linkedin, or in our newsletter Agenda de Cinco Días
Five Days agenda
The most important economic appointments of the day, with the keys and the context to understand their scope
receive it