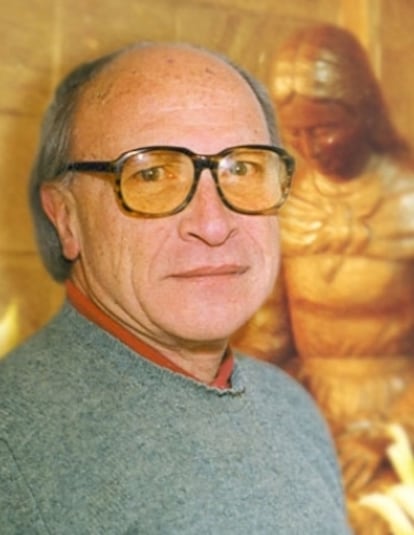 Luis Tó, in an undated image, a Jesuit convicted of abuse in 1992 in Spain and who was sent by order to Bolivia, where he is also accused of pedophilia.
EL PAÍS launched an investigation into pedophilia in the Spanish Church in 2018 and has an updated database with all known cases. If you know of a case that has not seen the light of day, you can write to us at: [email protected]. If it is a case in Latin America, the address is: [email protected].
─────────
The shocking case of Alfonso Pedrajas, the Spanish Jesuit who wrote in his diary about the abuse of dozens of minors in Bolivia, has unleashed a cascade of complaints in this country, with effects in Spain. Complaints have arisen against six other Spaniards from the order, and two of them also have accusations in Barcelona. One is Francesc Peris, whose case, uncovered by EL PAÍS, has so far brought to light nine more accusations at the Casp Jesuit school in the Catalan capital. More than 200 students have requested explanations by letter in a center where there are also eight other accused teachers. But there is a second Jesuit who went through another Barcelona school, Sant Ignasi de Sarrià: Luis Tó González, who was denounced and sentenced to two years in prison in 1992 for abusing an eight-year-old girl. The school hid what happened, sent him to Bolivia, as this newspaper revealed in 2019, and fired him with a party. He passed away in 2017. Now it comes to light that in that country he was a novice sexual ethics teacher and continued in contact with minors. There, too, he was denounced for abuse.
This news has outraged the victims of Tó in Barcelona, ​​because there were others, besides that girl, and they accuse the Jesuits of never having given public explanations of the case and of having protected and covered up the case. They consider that it is a story still pending to be clarified, and to be repaired.
The Society of Jesus, consulted again, refuses to provide information on the results of its investigations in this case, nor does it report how many victims it has on record and what reparation measures it has adopted with them. "None, they have not done anything," sums up Jordi de la Mata, one of those affected, who also suffered abuse from another Jesuit at the school, Pere Sala, like his brother. He publicly denounced it in 2019. "The Jesuits sent me a letter asking for forgiveness for the damage caused and nothing more. Neither compensation, nor anything, nobody has offered me anything. And they screwed up my life."
After witnessing the controversy at the Casp school, De la Mata also focuses on Sant Ignasi: "We are very outraged by the lack of will of the Jesuits. As always they fix everything by hiding things and people. After four years still no one has contacted us or other victims of the school to see if we need anything, like therapy."
De la Mata calls for total transparency, that the names and surnames of all abusers and concealers be made public. He demands true zero tolerance, the removal of abusers and cover-ups from religious life. Also, that the order hand over to the prosecutor's office all the information it has, including canonical files, and indemnify all the victims.
So far, a total of eight victims of Tó (six women and two men) have come to light in the media, but De la Mata maintains that there are many more. He says that he opened an email when he made his case public in 2019 and received 35 messages denouncing abuse at school at the hands of different teachers. "Of them, 20 were about Luis Tó, both men and women," she concludes. In Sant Ignasi there are six other accused Jesuits, as published by this newspaper and El Periódico: Father Cabanach, in the fifties; José Soler Mataix and Josep Antoni Garí, in the sixties; Pere Sala, Emilio Benedetti, Antoni Roigé, in the seventies and eighties.
Elena, the fictitious name of another victim who does not wish to be identified, has spoken with 12 former classmates from the 1980s, and five claim to have been abused by Tó. In her case, she assures her, the Jesuits have not done anything either: "They make you dizzy. There comes a time when you run out of their good-natured strategies, their good words, that they did what they could. No, you didn't do what you could because we were children, you dropped us in a well and no one has rescued us, not even now, you just give us a pat on the back. Elena is sure that there are dozens of victims of Tó, who spent several decades at the school. "He was a compulsive predator. They called him the Tocato. The whole school knew it." She remembers that, after Tó's departure, they warned all the classes that they should not talk about it. The center also did not inform the families.
She remembered everything suddenly, as an adult, when Tó was sentenced and the news came out in the press. "I had buried him, and then my blood ran cold. It wasn't until I saw it in the newspaper that I told myself: I haven't dreamed it, it's real. I had a terrifying anxiety attack. I had a difficult adolescence, and I put it down to that. I have done therapy for many years, but I still have a very big rage inside, because it was very unfair ". Elena wants to underline the profound impact that abuse has on those who suffer it in childhood. Difficulties in interpersonal relationships, in the family, years of therapy, and that who decides to face it, because whoever does not can fall into addictions and even suicide.
Elena places her abuse when she was between seven and eight years old, in the eighties. Years before a girl denounced Tó. "A teacher, who was our tutor, sent us to her office. She had to know what was going on there. She said we had to go because we didn't have good grades in math, and Tó gave you a class in the patio, which was the only time we had to play. She locked the door, and that was the worst, the feeling of not being able to get out of there. She put her hand under her shirt, behind her back, one day she kissed me on the mouth… I always went with a friend, because we didn't want to go alone, we witness each other. I remember the feeling of terror, of wanting to flee. But there were boys and girls who went alone."
Elena also refers to what another former classmate has told her, that Tó would lay her down on the sofa and place her head on his genitals. "She also had an office with a camera where she took us and recorded us on video, she told us to dance. One day the teacher who sent us to her office scolded us because we were dancing in the patio, and he was filming us from a window. He scolded us as if we were to blame. Do you realize what you are doing? As if we were provoking him. We did not understand anything. What I did was play. We were just girls."
When Jordi de la Mata appeared in the media in 2019 denouncing the abuses he had suffered, Elena and other former students joined him. Her experience with the Jesuits is also frustrating. "They just wanted to get information from us, but they didn't give any. We asked if there were more victims, and they said almost nothing, all very opaque. We wanted to meet other victims and be able to hug each other." Aside from verifying that the order would not help them find out the truth, Elena assures that everything their managers told them is that they understood their pain. They did not offer any financial compensation.
What is now confirmed is that Tó continued with his abuses in Bolivia. The Bolivian Jesuits affirm that they were never aware of any complaints against Tó in the Latin American country. However, the former Jesuit Pedro Lima denies it. He has told EL PAÍS that in 2001 he went to visit the then provincial of the order, Ramón Alaix, to denounce several priests for pedophilia, including Tó. Alaix's response, according to the former Jesuit, was silence and expel him from the order.
In theory, according to what the Jesuits have maintained, Tó arrived in Bolivia under surveillance and to hold positions without contact with minors. That is why Lima's testimony is surprising. When he was a novice, he met Tó upon his arrival in the Latin American country in 1993: he was his new professor of ethics and sexual morality. He "had a fixation on the subject of pedophilia. And he ended up teaching that in those cases we must be merciful because the aggressor suffers more internally than the victim. In those lessons, Lima says, Tó confessed that he had abused minors, but Jesus had forgiven him. He presented pedophilia from a theological point of view, saying that Jesus forgives the sinner, and that is enough with a confession ".
In Bolivia, in addition, Tó practiced in the parish of El Alto and had contact with minors, according to the testimony of Lima. "They introduced him to us as a Catalan Jesuit who was doing 'a lot of good' in the City of El Alto, because he had a fight with real estate scammers called lotteradores and that the people of Alto loved Father Tó very much," says Lima. He accompanied him in 1994 as an Aymara translator, a language he knew. "He was accompanying the children of the family catechism. I stayed giving the talk to the children and he called the little ones for interviews in a nearby office". It was the same method that he used in Barcelona. Lima recalls that, when saying goodbye to him, he saw "three or four children who did not come close to him and their faces were frightened. It is the first time that I felt terror next to a pedophile Jesuit sentenced by justice".
It was not the last time that Lima saw Tó. Years later, he taught at the Sagrado Corazón de Sucre school, at the Fe y Alegría Jesuit institution, and several students told him that the person in charge of discipline, a layman, was abusing them. "I told my superior about the issue, and he told me to report the issue to a senior manager of Fe y Alegría who was passing through Sucre. I went to see him. To my surprise it was Luis Tó. I complied with warning, I felt great discouragement ", he recounts. In other words, one of the educational leaders in Bolivia to whom cases of pedophilia should be reported was Luis Tó.
Alfonso Pedrajas, the self-confessed pedophile who kept a diary of his abuses in Bolivia, also mentions Tó in his writings on three occasions, and had a cordial relationship with him. Besides, he also knew that he was a pedophile. This is confirmed by a close friend of Pedrajas, who prefers to remain anonymous: "He told us that Tó had been taken from Barcelona to Bolivia because he abused minors. And that it was one thing that everyone there knew."
75% discount
Subscribe to continue reading
Read without limits