The next school year, Infanta Sofía will study in Wales for the international baccalaureate, and she will do so in the same center where her sister, Princess Leonor, graduated this year. UWC Atlantic College will become her new "home" for the next two years.
Meanwhile, today, the Infanta Sofía receives the sacrament of confirmation, along with her ESO roommates from the Santa María de los Rosales school. The ceremony will take place in the parish of the Assumption of Our Lady, in the town of Aravaca.
It will be in a certain way, together with his graduation from this last year of ESO, his farewell to both his classmates and the school where he has studied since he began child education at the age of three.
Both guests and students must be in the temple at 12:30. The Princess of Asturias, recently graduated and arrived from Wales, will be Sofia's godmother and spiritual guide, as confirmed by Paloma Barrientos. To exercise as such, the only rule set by the Catholic Church is that whoever does so must be a Catholic and be baptized and confirmed. The heiress meets these requirements and is the one who will accompany her to the altar and place her hand on the Infanta's shoulder so that the priest anoints her forehead with oil.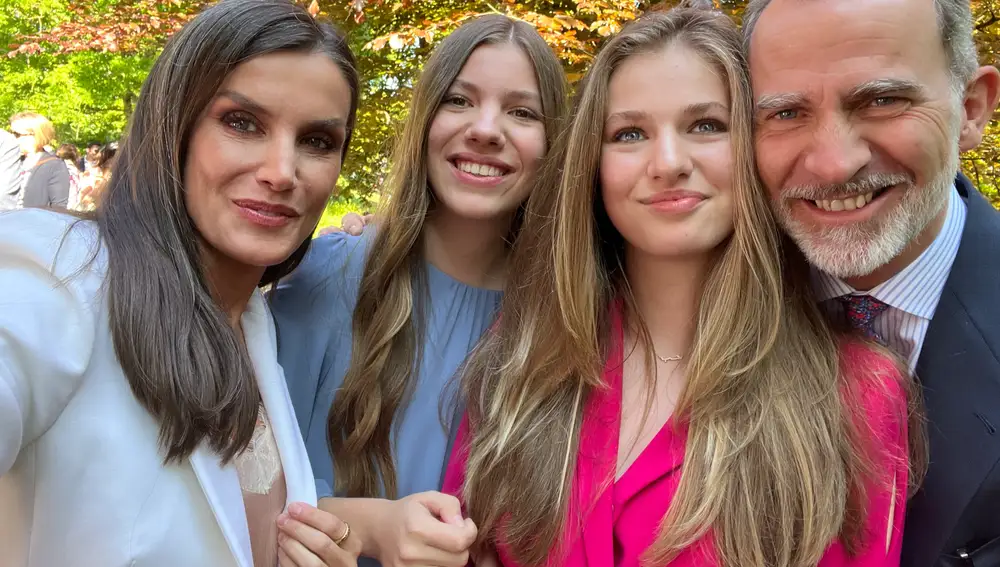 The message from Leonor's necklace at her graduation. Real home
In the case of Leonor de Borbón, it was King Felipe who played this role.
This Thursday's religious act will no longer have sanitary restrictions, as was the case with Leonor, in May 2021, so a greater number of guests will be able to access the temple. As they have confirmed to Vanitatis, the parents and the godfather or godmother have assigned the front benches. And each family corresponds to another bank to which they can invite five people. Children under the age of five are assigned to the vestry with caregivers.
In this way, it is possible that the grandmothers of the Infanta Sofía, Queen Sofía and Paloma Rocasolano, as well as the maternal grandfather (since Don Juan Carlos is in Abu Dhabi), will be able to share the liturgy with their granddaughter.