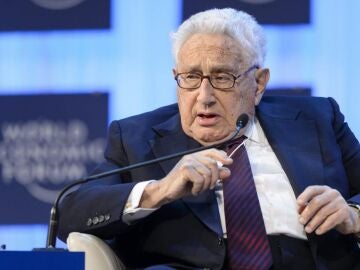 Veteran US diplomat Henry Kissinger, who was National Security Adviser to former Republican President Richard Nixon and US Secretary of State from 1973 to 1976, suggests in an interview that part of the responsibility for the war in Ukraine is shared. "I don't think it's all Putin's fault," he told Die Zeit weekly. In 2014, the influential strategist expressed serious doubts about the plan to invite Ukraine to join NATO, as he considered it a direct provocation against Russia.
Kissinger, who turns 100 on May 27, thought then that "Ukraine should have remained neutral, with a similar status to Finland." However, he now claims to have changed his mind and is in favor of Ukraine joining the military alliance once the war is over. "Today I am absolutely in favor of accepting Ukraine into NATO. Now that there are no more neutral zones between NATO and Russia, it is better for the West to admit Ukraine into NATO."
He also spoke about the arrest warrant against Vladimir Putin so that he can be tried at the International Criminal Court. "Putin before a court? Better not!" He said because, in his opinion, it is "impossible or much more difficult to end a war if you link the outcome of the war to the personal destiny of a political leader."
On the option that Moscow ends up approving the use of nuclear weapons against Ukraine, Kissinger expressed his doubts, with a nuance: "The more you get to the core of Russian identity, the more likely it is to do so."
In July 2022, Kissinger advised Ukraine and the West not to cede any territory occupied after the start of the war in a possible scenario of negotiations with Russia. "Ceding Ukrainian territory should not be one of the conditions we can accept," Kissinger said at the time.
Last month, he called for a ceasefire under which Russia would have to withdraw from the demarcated front lines before the February 2022 invasion while Crimea should be the subject of "negotiation".