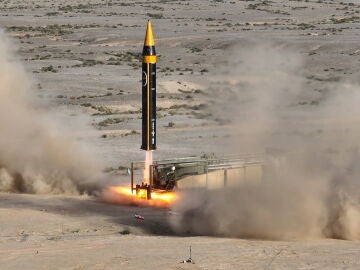 The Iranian Armed Forces presented this Thursday a new missile with a range of 2,000 kilometers and a warhead of 1,500 kilos. The Khaibar missile – the fourth generation of the Khorramshahr series – has a length of 13 meters, is equipped with liquid fuel engines and is more accurate than previous versions, the Mehr agency reported.
The new weapons were presented to commemorate the victory in Khorramshahr, an Iranian border city conquered by Iraq at the beginning of the war that both countries waged between 1980 and 1988, and which Persian troops recaptured in 1982, now 41 years ago.
The presentation ceremony was attended by the Minister of Defense, Mohammad Reza Gharaei, among other senior military officials of the Persian country. State television showed a test of the new weapons, in which the missile is observed taking off and flying over a desert area.
The missile, developed by experts from the Aerospace Organization, part of the Ministry of Defense, has the motor located in the fuel tank, which has made it possible to reduce the size of the missile by more than ten meters.
Gharaei stressed that this missile "is the result of years of efforts by Iranian scientists" and stressed that "it is equipped with radar avoidance technology and can pass through enemy air defense systems." "We are taking steps to equip the Armed Forces in various areas with missiles, drones, air defense systems and others, so this type of presentation will continue in the future," added the Iranian minister, as reported by the IRNA news agency.
Iran has developed a national arms industry during the last four decades, due to the international embargo, with special interest in missiles, and it has several that reach 2,000 kilometers, enough to reach Israel.
Iranian ballistic missiles are a source of concern for the United States, Europe and some Middle Eastern countries, although Tehran authorities say they only have a defensive and deterrent role.
In fact, the Iranian ballistic program was one of the reasons given by former US President Donald Trump for withdrawing his country from the 2015 multilateral nuclear agreement in 2018 and reimposing sanctions on Tehran. Negotiations to recover the pact that limited Iran's nuclear program in exchange for the lifting of sanctions have been paralyzed for months.
With information from Efe and Europa Press