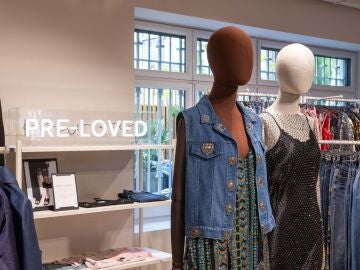 H&M launches second-hand clothing sales. The Swedish company has announced today the reopening of its emblematic store on Paseo de Gracia in Barcelona, ​​where it will offer its customers "H&M Pre-Loved", a selection of second-hand clothing and accessories, which will make this establishment the first in the world of the chain to offer this type of product.
As the company has explained, Pre-Loved includes garments and a small selection of second-hand accessories that follow the latest trends and incorporate "unique pieces, allowing the consumer to experiment in a different way with their own style together with the regular collections of the Swedish firm". These second-hand designs will debut in the women's collection, located on the first floor, with a surface area of ​​16 square meters and an estimate of 360 garments. H&M has explained that the second-hand clothing offer will have new items every week.
Along with this second-hand collection, the H&M store on Paseo de Gracia presents other novelties such as its renewed "Gallery of fashion stories". The company has redesigned the staircase that presides over the flagship store with a gallery that receives and welcomes customers with the new Summer 2023 collection through an immersive experience with LED screens.
The store also includes interactive "Social Fitting Rooms" and "Virtual Mannequin" which, according to the firm, "reinforce H&M's commitment to elevate the omnichannel experience." The "Social Fitting Rooms" allow you to interact with music, colors and backgrounds. With the "Virtual Mannequin", customers will be able to use their own mobile device and explore the looks available on the screen, being able to turn the exploration into a purchase.
The flagship also includes a new 25-square-meter cafeteria located on the first floor, with specialty coffee to go from Syra Coffee and some other surprises for its consumers such as a children's space designed by LEGO and new areas for H&M Home and the new H&M Move brand.