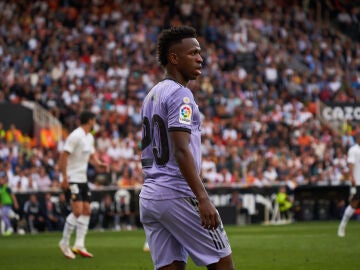 Racism against Vinicius continues to talk a lot. Rubiales and Javier Tebas, presidents of the Federation and LaLiga have come out to talk about the issue to try to prevent the competition from being discredited now that even the United States has shown its concern about the matter. "There is a problem of education and behavior. This affects society and also those who go to football not to encourage but to insult. Violence is intolerable and racism is a type of violence," said Rubiales. "I already said that this stains a team, a city and a country. It is something very unfair. We cannot allow an entire society to be unfairly singled out. We have a problem to solve but we must also forcefully emphasize that Spain is a country welcoming. World-class in freedoms and rights. And also in coexistence except for episodes that unfortunately occur all over the world, also here", added the president of the competition.
Rubiales has insisted that "Spain is the destination of many because of its unquestionable quality of life, but also because of the quality and treatment of our people" and that it is "probably one of the most inclusive countries in the world." "Within Spain there are fantastic cities. One of the best cities I know, not in Spain but in the world, is Valencia. Valencia has it all and some scoundrels should neither stain the image of Valencia. My family lives in Valencia. It is an extraordinary city. In addition to its beauty, Valencia stands out for its plurality and because it is a truly cosmopolitan and tolerant city. I would say exemplary", he stated.
Thebes has asked for competitions to end racism on soccer fields. "He just needs a rule change." Thus he assured in a press conference that "with powers" to adopt sanctions, "in months" they would solve "this problem" of racist and homophobic chants and insults.
"I vote for you, I have assumed it"
The institutions want to lead the fight against racism, while in the gatherings this topic continues to be discussed, sometimes with unexpected exits. It has happened in El Chiringuito, where Jota Jordi and the journalist Juan Manuel Rodríguez have faced a strange exit: "You will be very amused that they call you a racist, I am not amused", Jota Jordi has assured at one point intense discussion. To which Juanma Rodríguez replied: "They take it to me… I vote for Vox, I have assumed that Jota Jordi. Sure, but what are you telling me. Welcome to the club." Then Pedrerol jumped in: "Please, we are not going to influence the campaign," Pedrerol said.
While Rubiales said that racism is a social problem that is reflected in soccer: "We have a problem that focuses on soccer but it is not soccer but rather it is social and it must also be said loud and clear that the overwhelming majority of Spaniards we are tolerant and respectful," he said.