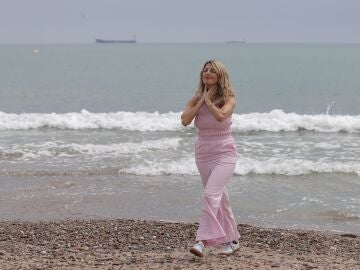 The Second Vice President and Minister of Labour, Yolanda Díaz, said today in Valencia that the expansion of the Port of Valencia is not feasible because "we are experiencing a climate emergency". Díaz has visited the beaches of El Saler and the Albufera de Valencia invited by the Comissió Ciutat-Port to explain the harmful effects on the environment of the planned expansion of the Port of Valencia.
Díaz explained that "we are suffering from a huge environmental emergency and a huge climate emergency" and therefore "all public policy has to be climate policy". This new look must give "unity of action in all the policies that we deploy in the whole of our country." And he has said that "we must be consistent because the climate emergency was the first measure taken upon reaching the government of Spain." And for this reason he has said that "we have the obligation not to share a port model -not only that of Valencia, but also that of Barcelona- and airports that look towards an old bipartisanship that had an economic and social development anchored in the old policies and the old times. It has to do with economic development and expropriation of environmental wealth for a few and that does not revert to the common good."
In the new "country project" advocated by Díaz "you cannot drink from the sources of the old bipartisanship. And we cannot allow the expansion of the Port of Valencia."
Díaz has assured that "in the project that I represent, they will continue to count on us to not allow the development of these works that, moreover, are not absolutely necessary. The important thing is the ecological and environmental impact that it has on public health and in people's lives."
He has also highlighted the "citizen disaffection" towards this type of project, which distances citizens from politics, from public affairs.
And he has concluded that "if we have declared a climate emergency in Spain, this infrastructure in the Valencian Community cannot go ahead.
For his part, the mayor of Valencia, Joan Ribó, has reiterated his arguments against the negative effects of the expansion of the Port of Valencia, to which I have opposed "at the beginning since I was alone for three years". Ribó has said that "if the new environmental impact statement has not been made, it is because there are so many contradictions that it is de facto impossible." The mayor has said that there are "hidden elements" and has referred to the five million more containers that will arrive at the port each year and that will have to be moved: "where, has anyone explained to us what this means?" And he has said that there is a study of the Port of Valencia from the northern exit that supposes either destroying the Malvarrosa and Cabanyal neighborhoods or making a tunnel that will cost hundreds of millions of euros.
He has also highlighted the visual impact that the expansion of the Port would have on the Malvarrosa beaches: "when you return to Valencia look at the port as it is and this is what we would also see on the Malvarrosa beaches". And he has concluded that this is what makes enlargement impossible "from approaches of minimal rationality and sustainability."