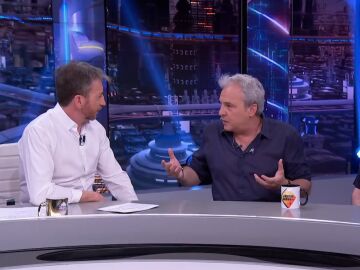 The members of the mythical pop group 'Hombres G' (Rafa Gutiérrez, Javier Molina and Daniel Mezquita) led by their vocalist David Summers, visited the set of 'El Hormiguero' to present the commemorative tour of its 40th anniversary that starts on Saturday May 27 in Seville.
"We are doing 'sold out' in all the places where we play, like in Latin America", advanced the son of Manolo Summers in relation to the updating of the authors of 'I'm going to have a good time' ("Los Hombres 5G", they are called by the liars in relation to his resurrection in times of TikTok and Glovo).
"Success and traveling have united us so much," Mezquita confessed: "that is the recipe for us to have been together for 4 decades." "Onstage is the best place we can be," Summer added another secret to her band's good health.
'Give me back my girl' is his most popular song by far: "What happens if you don't play it at a concert?" Pablo Motos launched, putting the musicians to play hypotheses. "We will never know because we are not going to pass," settled the drummer, Javier Molina.
"That we are together is already a miracle, but that we are playing places like Madison for 80,000 people is happening to us now, not in the 80s," Summers reflected immediately.
Regarding the differences between the fans of before and those of now, the guitarist Rafa Muñoz assured that "now they respect us more because they see us older". "There is an image of a concert in Mallorca in the 80s in which we are playing on a sea of ​​bras", the vocalist came out quite.
Without a solution of continuity, Summers spoke with ironic sharpness about woke neocensorship, since they have been accused of macho for topics such as 'Give me back my girl' or 'Let your hair down': "We were pioneers in consent, we sang 'let go the hair and then, IF YOU WANT, the bra.'"
Age takes its toll. David, apart from confessing that they have stopped drinking, smoking "and everything", revealed that he has recently been wearing a teleprompter, a device that "he has never used, but since I had an episode of anxiety, I carry it for safety". Drummer Javier Molina said that he has "infiltrated both knees"; while Rafa Muñoz takes "4 or 5 pills a day, but the difference is that these are prescribed."