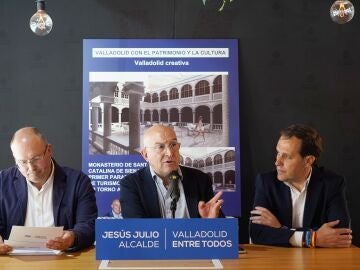 The PP candidate for Mayor of Valladolid, Jesús Julio Carnero, hurries the last hours of an intense electoral campaign that ends this Friday, vindicating the electoral program that they have prepared to "transform" the city, especially in cultural and tourist matters, that you presented and expanded on this morning. Among them, the recovery of the project to bury the train in the city as a banner -an initiative that has the approval and commitment of both Alberto Núñez Feijóo if it reaches La Moncloa and the president of the Board, Alfonso Fernández Mañueco, who has back today to defend it-, but also the remodeling of one of the pavilions of the Valladolid Fair, specifically number 4, in order to convert it into a Conference Center using retractable stands with capacity for eleven thousand people, three thousand seated and eight thousand standing, and thus be able to host large events of this type and solve a demand that the capital of Pisuerga has in this regard.
Also notable was the project to convert the Convent of Santa Catalina into a National Tourism Parador but themed around wine. Or what is the same, turn this emblematic monastery into the nerve center of the world of wine, one of the hallmarks of the city, the province and all of Castilla y León, in which the culture of wine will be promoted , with the participation of the entire sector such as wineries and designations of origin.
Also related to this ancestral culture, it reaffirmed its commitment to promoting responsible wine consumption among young people through culture and music through a Wine Festival or "Wine Fest", in collaboration with other administrations.
"We want Valladolid to be the Bordeaux of Spanish wine and that Peñafiel, Rueda, Serrada, La Seca and Cigales be the Saint-Émilion in each of the parts of the territory", highlighted the candidate.
Carnero presented these proposals accompanied by Conrado Íscar or Miguel Tellado, and took the opportunity to ask the people of Valladolid to vote for his candidacy and his city project. "The people of Valladolid have this Sunday the possibility of choosing between the resignation of Óscar Puente from the PSOE and the illusion, change and transformation that the PP represents," said Carnero, while encouraging residents to opt for the latter option and look like this to the horizon with more optimism and hope.
"If 'Sanchismo' is harming all of Spain, Óscar Puente, who he idolizes, is Sánchez's number one fan, he is harming Valladolid," said the popular candidate, for whom the socialist mayor is an "accomplice" in everything he is doing. the President of the Government in all of Spain.
"On May 28, we have the opportunity to express ourselves at the polls, there is only one path, that of change, that of transformation, that of the PP," he concluded.