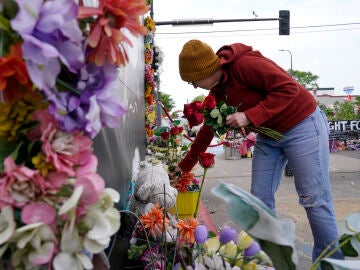 The president of the United States, Joe Biden, recalled this Thursday the third anniversary of the death at the hands of the police of the African-American George Floyd, urging Congress to approve a "significant" police reform.
Floyd, 46, was suffocated to death by officer Derek Chauvin, who pressed his knee on the victim's neck for several minutes, in an incident that sparked massive protests across the country during the summer of 2020. Chauvin was convicted of manslaughter .
After the incident, the Democrats in Congress presented a project entitled "George Floyd Law of Justice in the Police", which has not yet obtained legislative approval.
"The murder of George Floyd exposed for many what communities of color have long known and experienced," Biden said in a statement released by the White House. "As a society we must commit ourselves to ensuring that our nation is true to its founding promise of fair justice for all under the law," she added.
Biden recalled that a year ago he signed decrees that affect the federal police and include the prohibition of strangulation, restrict raids that are carried out without knocking on the door or establish a database for the registration of inappropriate police conduct, among other things. measures. "But we know that implementing real, lasting change at the state and local level requires action by Congress," Biden said.