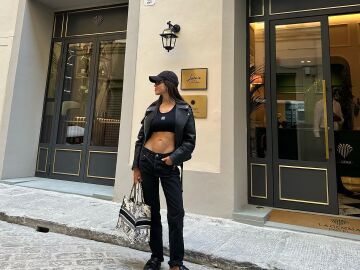 Violeta Mangriñán has already moved on from the controversies of the April 2023 Fair with Rocío Osorno and Vinícius and has once again left us the content that we like on her Instagram account. And we are not only talking about her daily looks, but also about her first world dramas and various disasters, because with that Violeta she represents all of us and she gets out of those idealization of social networks that are so unreal. And we are clear that it could be any of us messing up in our lives. But today we have fallen in love with this look with all the vibes that has been marked with a Loewe crop top and low-rise jeans showing the belly and with an oversize biker and cap, to give it all the vibes. Because today not everything can be Marta Lozano and Marta Díaz in Cannes, or Ana Soria in 'El Hormiguero', Violeta Mangriñán also had to leave us one of her looks that we missed so much.
It triumphed last summer, but it seems that it is here to stay. Yes, we are talking about the most viral 'tank top' of last season, and that Paula Echevarría has made it clear to us that we will continue wearing it this summer. Yes, we are talking about the 'tank top' and Victoria Federica was one of the first to wear it and from Loewe. But now it is Violeta Mangriñán who wears it in the most cropped version of her to show her abdomen and show off a great guy with low-waisted black jeans. Still don't know what a 'tank top' is? If you don't know what we mean by this name, surely if we say 'undershirt' that classic tight-fitting garment, sleeveless, with a round neckline and, almost always, ribbed and cotton, comes to mind. Yes, the one that our mothers used to put on us when we were little to go to school under the sweatshirt, and that was the star garment of the 90s and 2000s and that now stars like Bella Hadid or Kendall Jenner have recovered. Of course, if there was someone last summer who did not take it off in our country, that was Victoria Federica.
A top that Violeta Mangriñán has combined with all the coolness in the world with low-waisted black jeans, a biker and a cap.