You can not use a better definition for her: the queen of rock and roll. Nothing less. Tina Turner has died this Wednesday at the age of 83, as confirmed by her representative. "Tina Turner has passed away peacefully today at the age of 83 after a long illness at her home in Küsnacht, near Zurich (Switzerland)," the statement said. "With her, the world loses a music legend and a role model." She had been retired for years and suffered from intestinal cancer, diagnosed in 2016. She had received a kidney transplant in 2017.
It is difficult to find in the history of rock a singer so influential, popular and with such a complicated life. "The list of obstacles is long: an unhappy childhood, abandonment, a violent marriage, a stagnant career, financial ruin, the premature death of family members, and multiple illnesses," he says in the introduction to his memoir, Happiness. is born of you, which he published in 2021. But he went ahead, stumbled and also strengthened to create his own style that paved the way for black rock singers and for many white stars. Mick Jagger designed his way to dominate an audience by watching Turner move on a stage. The list of hits sung by her is long: Proud Mary, River Deep, Mountain High, What's Love Got To Do With It or The Best.
He also challenged sexual conventions. In the sixties, when she began her career with Ike Turner, her presence was volcanic, exuberant, a rare sexual catharsis for those years, and even less so in a black singer. There she began to forge her style, inherited from gospel, soul and incipient rock. Turner enjoyed and suffered the performances while hiding the tragedy of a marriage full of abuse. The physical and psychological torture to which Ike Turner, her husband since 1962, subjected her, led her to a suicide attempt. She swallowed a handful of pills and said she was "disappointed" when she woke up.
Tina Turner and her husband, Ike, in an image from around 1961, when they formed the duo Ike & Tina Turner.Michael Ochs Archives (Getty)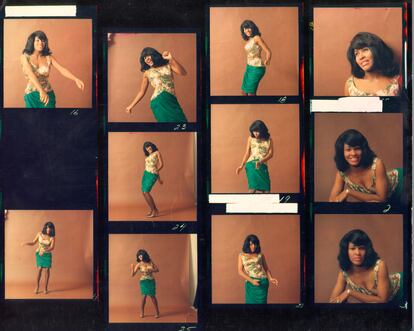 Contact sheet from a 1964 photo shoot of the singer. Michael Ochs Archives (Getty)
A fan watched Tina Turner during a performance in 1969.Robert Altman (Getty Images)
Portrait of Tina Turner, on November 25, 1969 in New York. Jack Robinson (Getty Images)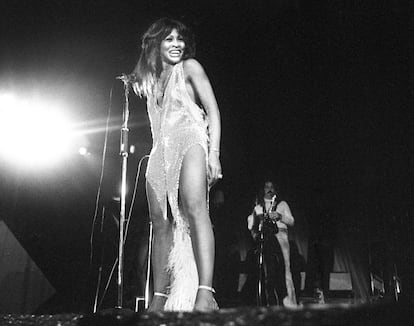 Performance by the duo Ike & Tina Turner in 1971. Gijsbert Hanekroot (Redferns / getty)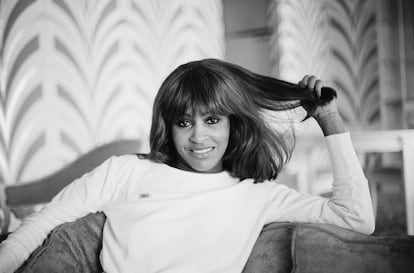 Turner posing in Las Vegas, from August 1, 1977. Tony Korody (Tony Korody)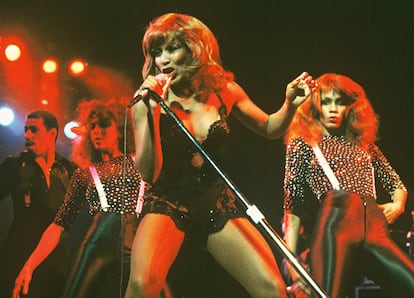 Tina Turner sang onstage, along with several dancers, on April 22, 1979.Rob Verhorst (Redferns/getty)
Tina Turner in a scene from the movie 'Mad Max'. United Archives / Cordon Press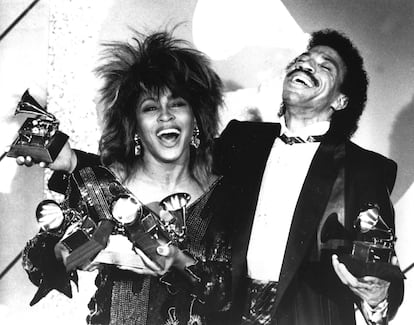 Tina Turner and Lionel Richie pose with the Grammy Awards in Los Angeles, in 1985. Lennox McLendon (AP / LAPRESSE)
The American singer Tina Turner, during a concert in Los Angeles, in 1984. PHIL RAMEY (AP)
From left, singers Mick Jagger, Tina Turner and David Bowie at the 10th anniversary of the Prince's Trust Rock Gala in London on June 23, 1986.Dave Hogan (Getty Images)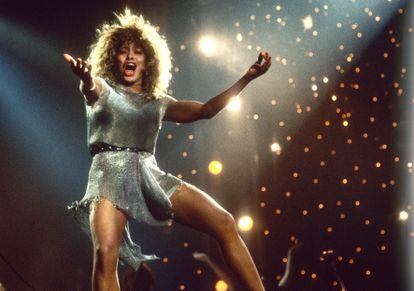 Tina Turner, on stage, during a performance in Rotterdam on November 4, 1990. Rob Verhorst (Redferns / getty)
Queen Elizabeth II greeted the singer Tina Turner at the Royal Variety in London, in 1989.DPA / Europa Press
Performance by Tina Turner in the Plaza de Las Ventas in Madrid, in 1990. Uly Martín
Portrait of the singer Tina Turner for an interview in EL PAÍS, in 1989. Pablo Juliá
Concert of Tina Turner in Barcelona, ​​in 1996. Agustí carbonell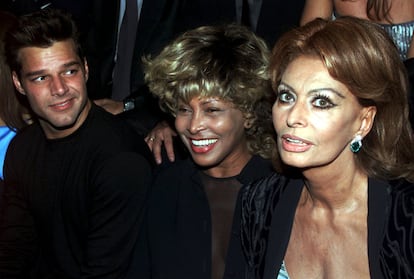 From left, singers Ricky Martin and Tina Turner with actress Sophia Loren in Milan in 1999.Reuters
Italian tenor Luciano Pavarotti kisses Tina Turner at the Sanremo song festival in February 2000.AP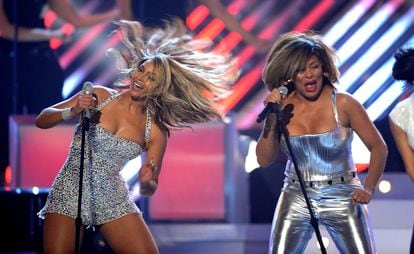 Beyoncé (left) and Tina Turner sang a duet at the 2008 Grammy Awards gala at the Staples Center in Los Angeles, California. Michael Caulfield (WireImage/getty)
Tina Turner greeted her followers in 2011 upon arriving at an Armani show in Milan. Gian Mattia D'Alberto (LaPresse)
Turner was born Anna Mae Bullock on November 26, 1939, and grew up in Nutbush, Tennessee. "I was brought into the world in a windowless basement relegated to the colored women's maternity ward at county hospital. My mother, Zelma, was affectionate with my sister, but with me she was different. I knew that he had never loved me. That is a heavy load for a little girl," she wrote in her memoir.
He sang in the church choir in his town and in the early sixties he joined Ike Turner's band. Ike immediately saw Tina's potential and began designing her for her success, exerting physical and psychological control. The hits, meanwhile, began to arrive, with songs like A Fool in Love. But the strength of the couple was the live performances, where Tina, as she later confessed, unleashed all the rage at the oppression that she lived away from the spotlight. Already in the seventies, Ike and Tina Turner became the favorite opening act for white rock stars.
The duo and their band preceded the performances of the Rolling Stones, Elton John or The Who. There was no better show to animate an audience. In the late 1970s, Tina got a divorce. On the one hand, she was relieved, but on the other, she had to start over, since Ike had legal issues well tied up and he put all the obstacles in place so that she could not relaunch her career. In those hard years she received from her in support of David Bowie or Keith Richards, who idolized her.
And in the eighties, it was reborn. She changed the sound, adapted to the times and delivered frothy pop pieces that reached the top of the charts. Her album Private Dancer (1984) made her an even bigger star. She subsequently released Break Every Rule (1986) and Foreign Affair (1989), which contained her hit single The Best. Tina Turner had adapted to the times and entered the synth sound of the eighties, but contributing the rush of her voice, hurt and hungry, and live performances in which it seemed that the stage was going to burn. It was when that image of her dressed in a light leather suit, long legs raised on heels and a feline mane became iconic.
Portrait of Tina Turner, in 1996 in the Netherlands. Michel Linssen (Redferns / getty)
Turner also had a presence in the movies. She played the Acid Queen in the film version of Ken Russell's Tommy, the rock opera by The Who, and also participated in Mad Max Beyond Thunderdome, in 1985. In 1993 her popularity experienced a new rise with the premiere of What's Love Got To Do With It (in Spain Tina), a film based on her life. The actress who played the singer, Angela Bassett, was nominated for an Oscar. Bassett said goodbye to Turner hours after announcing her death like this: "I am honored to have met Tina Turner. I'm honored to have helped show it to the world. So today, as we mourn the loss of this iconic voice and presence of hers, she gave us more than we could have asked for: she gave us her entire being. And Tina Turner is a gift that will always be 'simply the best'. Angels, sing to your rest… Queen".
When he turned 60 and with the release of his album Twenty Four Seven (1999), he began a withdrawal with low-intensity interventions for the next few years. Until in 2013 his presence was testimonial. He spent many years of his life in Switzerland, where he died, and had to see how loved ones around him were disappearing. Most tragic was the death of two of his sons: the eldest, Craig, committed suicide in 2018 at age 59, and the youngest, Ron, died of complications from colon cancer in 2022 at age 62. One of the first to reacting to her death has been Mick Jagger, who has written: "I am very saddened by the passing of my wonderful friend Tina Turner. She was an enormously talented performer and singer. She was inspiring, warm, funny, and generous. She helped me a lot when she was young and I will never forget her".
All the culture that goes with you awaits you here.
subscribe
Babelia
The literary novelties analyzed by the best critics in our weekly bulletin
RECEIVE IT