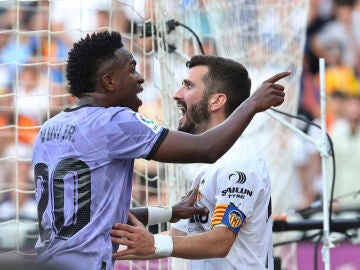 Vinicius had a conversation during the match with De Burgos Bengoetxea. "If you hear another one, we'll go inside. Do you trust me?" the referee assured him. A phrase that was recorded by the DAZN cameras. From there, everything precipitated and the tension gave way to endless controversy on the pitch. The Brazilian Minister of Justice, Flávio Dino, said that the Brazilian government is studying the application of the principle of extraterritoriality due to the racist attacks against Vinicius. "We are studying the possibility of applying the principle known as extraterritoriality. The Penal Code provides that, in some exceptional situations, it is possible to apply Brazilian law in case of crimes against Brazilians even abroad. The principle of extraterritoriality is in the Penal Code , derived from the request of the Minister of Justice. Extreme remedy in case of crime against Brazilians, which can be useful in case of inaction of the initially competent authorities. It can work as a response to an unjust aggression against a compatriot. The issue of extraterritoriality it is still under review and depends on a number of factors. I just remind you that it is in the Penal Code, since some are questioning the mention I made of it as an extreme remedy. I think it is useful for everyone to know about the existence of this protection for the rights of Brazilians. By the way, the principle also exists in Spain and other countries."
"It is not the first time, nor the second, nor the third. Racism is normal in LaLiga. The competition believes that it is normal, the Federation also and the opponents encourage it. I'm sorry. The championship that once belonged to Ronaldinho, Ronaldo, Cristiano and Messi today is one of the racists. A beautiful nation, which welcomed me and the one I love, but which agreed to export to the world the image of a racist country. I'm sorry for the Spaniards who disagree, but today "In Brazil, Spain is known as a country of racists. And unfortunately, for everything that happens every week, I have no defense. I agree. But I am strong and I will go to the end against the racists", Vinicius settled in his networks .
The Government of Lula da Silva informed Spain that La Liga, the Spanish Football Federation and FIFA would take action. The LaLiga report was clear. "It is clearly heard, "black puto", "I shit on your dead", "son of a bitch", Vinicius idiot", "black puto, son of a bitch", Vinicius dog", "son of a bitch", "monkey that you're a fucking monkey", "silly, silly", "uh, uh, uh".