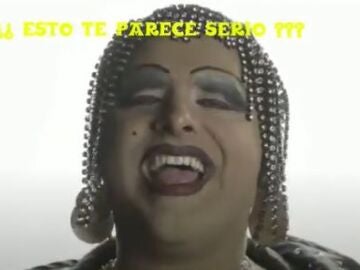 The clashes between the PNV and EH Bildu are a constant in this electoral race that will end next Sunday, May 28. However, the abertzale formation has gone a step further. A video in support of EH Bildu disqualifies Javier Gallego, current mayor of the PNV in Ribera Alta (Álava), better known as "La Polaka" for his role as "drag queen".
The video in question begins with a complaint about the management of the Pobes day center, but a few minutes later part of a video clip of "La Polaka" appears in which it is heard: "I am a Basque vampire, looking for a stake. I am arrogant, behind and in front." Images that appear next to a sign that reads "Does this seem serious to you?"… and as a climax an electoral image of the EH Bildu formation in Ribera Alta with the following headline in yellow letters: "With this joke we have to finish!".
With the controversy already served, the president of the EBB of the PNV, Andoni Ortuzar, has called for an electoral "slap" to EH Bildu: "They who pass for being the defenders of minorities, the defenders of plurality, of diversity, that their mouths fill up talking about the defense of the rights of all people, it turns out that they do not want a person to be mayor, not because he is a good or bad politician, but because he is a drag queen and should be a joke, it must be an indignity," he said in an angry tone.
For their part, from the EH Bildu formation in Ribera Alta they have described the video as "regrettable" and "unfortunate" and have insisted that it was made "at a private level" by one of its members.