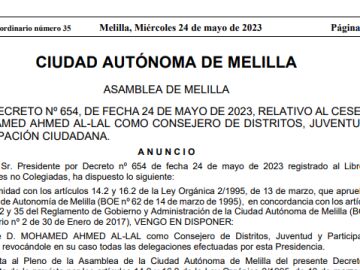 The president of the Government of Melilla has decreed the dismissal of Mohamed Ahmed Al-Al as councilor for Districts, Youth and Citizen Participation, "revoking, where appropriate, all the delegations made by this Presidency", according to the City Bulletin Autonomy. Al Al is one of those detained by the Police in the operation against the purchase of votes by mail and refused to give a statement before the judge.
Among other things, he is credited with contracting the controversial Morad concert that cost 207,000 euros and brought with it 18 minor contracts, as denounced by the Popular Party. Also, the no less controversial concert by Kiko and Shara that cost 56,200 euros, but which was not advertised from the Autonomous City, not even from its social networks and nobody went.
The cessation decree indicates that it is published "in compliance with the provisions of articles 5 et seq. of Law 19/2013, of December 9, on Transparency, Access to Information and Good Governance and the Regulations on Transparency and Access to Public Information of the Autonomous City of Melilla."
Likewise, it may file an optional appeal for reinstatement within a period of one month from its notification, or, alternatively, an administrative appeal may be filed before the competent administrative jurisdiction, within a period of two months. However, they may use any other resource, if they deem it appropriate under their responsibility.