This Tuesday started Microsoft Build 2023, the Microsoft developer conference in which it has presented the next artificial intelligence innovations in its products. Until now, we had GPT-4, the ChatGPT Plus language model, in the Bing search engine, in Microsoft 365, the old Office, and the Edge browser. The company has announced that from next June it will be integrated with the Windows 11 and 365 Copilot operating system with the Edge browser, among other novelties.
Copilot or Copilot is the term by which Microsoft refers to its implementations of the AI ​​of Open AI in its products. Thus, Microsoft's artificial intelligence assistant will be the co-pilot of Windows and will be presented in a format similar to the one it has in the Edge browser. By clicking on its icon on the taskbar, Windows 11 will display a side panel from which to interact with the AI.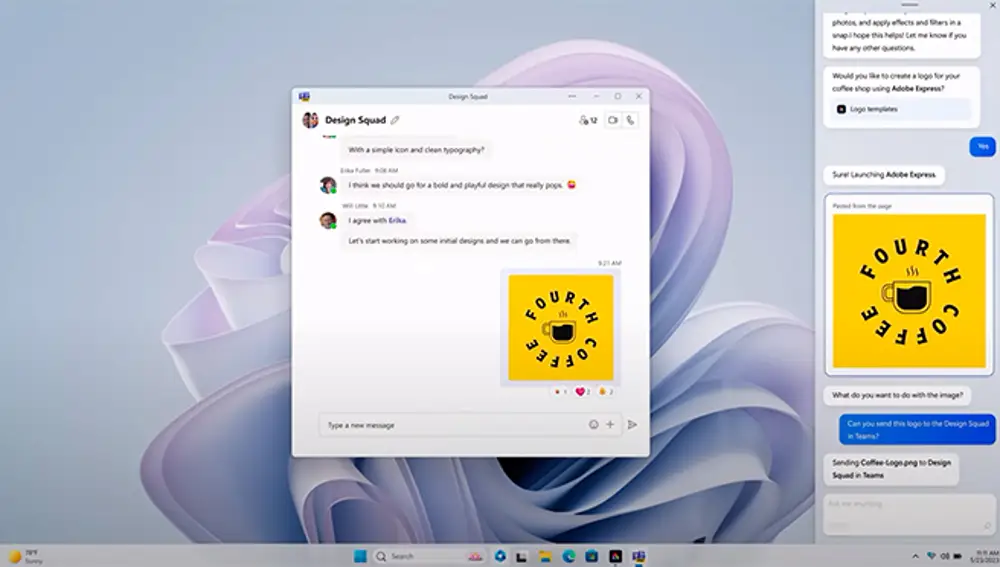 Windows Copilot, Windows 11 y Teams. Microsoft.
On any application that you are using, the user can ask Windows Copilot to summarize, rewrite, explain and translate texts, adjust Windows parameters through commands with natural language or open applications and perform actions with them such as telling them to play an artist on Spotify, among other tasks that Microsoft showed. It's basically a new way of interacting with Windows by telling Windows Copilot what you want to do instead of the user running the task directly. For now, in writing, but taking into account that both the Bing and ChatGPT mobile apps allow voice interaction, presumably this will soon reach Windows 11 with which the user can directly talk to the system operational.
"Once open, the Windows Copilot Sidebar stays consistent across all your apps, programs, and windows, always available to act as your personal assistant. It turns every user into a power user, helping you perform tasks, customize your settings and seamlessly connect through your favorite apps," Panos Panay, product manager for Windows, explained in a post on the Microsoft blog.
Another novelty is that Windows Copilot will allow the use of plug-ins, which will increase the functionality it can offer users, as will Bing Chat and 365 Copilot, which will also support them.
As usual with Microsoft's AI products, Windows Copilot will be available on a limited basis starting next June and will roll out to all Windows 11 users later.
The pace of innovations that Microsoft is launching this year with the IOA means that some overlap with others. It's a bit what happens to the integration of the Microsoft 365 copilot with the Bing browser, which already had its AI assistant integrated. What Microsoft 365 Copilot brings to Edge is being able to work not only with what is open in the browser, but also with user information in old Office applications, such as documents or emails.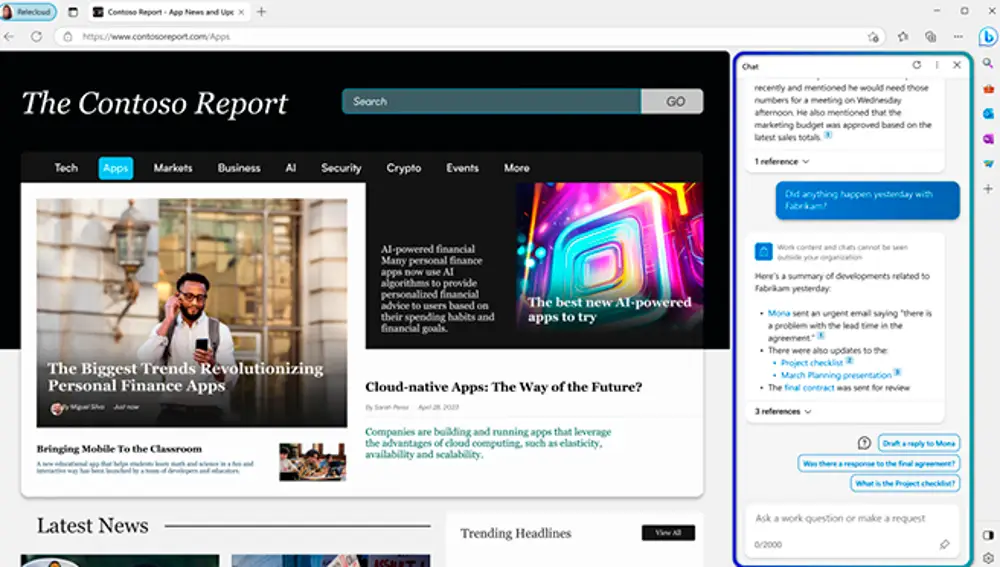 Microsoft 365 Copilot en Edge. Microsoft.
Thus, a user dedicated to sales who is visiting a client's website with Edge will be able to ask the co-pilot to summarize everything discussed with him in Teams meetings, Outlook emails and Office documents. Copilot will also be able to suggest uses for the information being used and compose emails on the subject.
"You can write natural language requests like "Tell my team how we updated product strategy today" and Microsoft 365 Copilot will generate a status update based on your morning meetings, emails, and chats. Combined with Edge, Microsoft 365 Copilot becomes even more intuitive by following the context of what you're seeing in the browser to provide better responses. For example, while looking at a file another employee shared, you might ask, "What are the key points in this document?" said Lindsay Kubasik, Microsoft group product manager for Edge. Microsoft has not advanced when Microsoft 365 Copilot will be available on Edge.
Artificial intelligence will also be coming to other Microsoft products like the Microsoft Store and Windows Terminal. This last case is particularly interesting because it will allow users who do not have the technical knowledge to deal with the Windows command console to interact with it using natural language. In addition to all these new features, Bing has become the default search engine for ChatGPT. This functionality will first come to users of the payment method ChatGPT Plus and later to the free version.