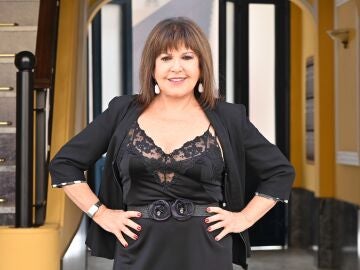 There is no doubt that the actress Loles León is an all-terrain woman. And not only on the big screen, where we have seen her play a multitude of characters, but also in the kitchen. She herself gave an account of her love for cooking a decade ago with her book "Cooking with Loles", as well as with various programs under the same title that can still be seen on YouTube today. And it is that her passion for her culinary art runs in the family, as she herself admits to LA RAZÓN.
This week, Loles has taken a break from the filming of "La que se avecina", in which she is currently immersed, to give us her star recipe, which she calls "sea and mountain cava". "I always make it, it is a dish from my Catalan family and it consists of a fusion of flavors with which there is a sauce for dipping bread that you will die of how rich it is," she says. To prepare it, the actress begins by frying the chicken thighs. "Once they are done, I put them aside and in that same cold oil the langoustines", she points out. And the same operation she repeats with the stir-fry. «In the oil where I have made the thighs and then the langoustines, I put the onion, the green pepper and the leek, all very chopped. Later, I add grated tomato, a ñora, a little cognac, salt, garlic and parsley », she indicates. After cooking it on the fire, he grinds the sauce in the blender and pours it back into a casserole with the chicken and the langoustines: "Once together, I add a bottle of cava and leave it over medium heat, to make chup chup" .
The process of this dish takes about an hour. Normally, although it is a dish that she herself defines as "forceful", she usually accompanies it with straw potatoes. "I do them too. Grated, very finite », she clarifies. «I go crazy when people come home. I set a lot of table because in my family we have that tradition », adds León.
INGREDIENTS FOR 4 PEOPLE
For four persons:
►4 chicken thighs
►4 crayfish
►1 bottle of cava
►1 onion
►1 green pepper
►1 tomato
►Half a leek
►1 now
►A splash of cognac
►Salt, garlic, parsley and EVOO