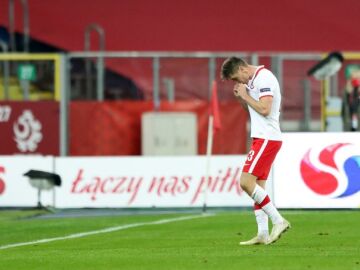 Girona dreams of playing in the Conference League next season and doing it big. And it is that the Catalan team has been able to reach an agreement to take over Krzysztof Piatek, a striker who was related in his day to both Real Madrid and Barcelona. However, the 27-year-old Pole is not part of Hertha Berlin's plans for the next season after his relegation, something that Girona has been able to play in his favor.
And it is that according to TVP Sport, the team led by Míchel has reached an agreement both with Hertha Belín and with Krzysztof Piatek's agent to take over his services for an amount close to 6 million euros. Said agreement would be contingent on Girona playing in the Conference League next season.
The trajectory of a Krzysztof Piatek who could end up in Girona
Krzysztof Piatek has played this season on loan at Salernitana, where he has played a total of 31 games scoring 4 goals and distributing 5 assists. The Pole's best campaign to date was at Genoa, with whom he scored 19 goals in 21 games in 2018-2019. It was then that he sounded for Real Madrid and Barcelona, ​​although Krzysztof Piatek ended up joining Milan in exchange for 35 million euros. After two seasons with the Italian team, he signed for Hertha Berlin, who loaned him to Fiorentina last year and to Salernitana this year. Now, Krzysztof Piatek could definitively dissociate himself from the Bavarian team to try his luck in LaLiga Santander at the hands of Girona.