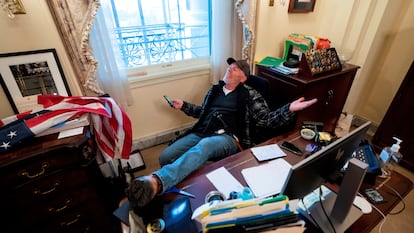 Richard 'Bigo' Barnet, a supporter of Donald Trump, at the desk of the Speaker of the House of Representatives, Nancy Pelosi, after the assault on the Capitol on January 6, 2021 in Washington (United States).
Richard Bigo Barnett had his moment of fame when he walked into the office of the then Speaker of the House of Representatives, Nancy Pelosi, as if he were at home. It was January 6, 2021, and Barnett was part of the mob that had stormed the Capitol. After sitting in Pelosi's chair, he put his feet up on her desk and that image went around the world. Barnett, who was found guilty of several crimes last January, was sentenced this Wednesday to four and a half years in prison.
Barnett, 62, testified during the trial that he was looking for a bathroom inside the Capitol when he inadvertently walked into Pelosi's office and was met by two press photographers. He said one of the photographers told him to "act natural," so he leaned back in a chair and put his legs up on the desk. The photographers denied that version, although they were not called to testify at the trial.
"Did you realize that what you were doing could cause a problem?" defense attorney Joseph McBride asked Barnett during the trial. "I was just in the moment," Barnett responded. "At this moment I just let myself be carried away by the current," he added, according to statements collected during the trial by the AP agency. Barnett decided to leave a note for Pelosi saying, "Nancy, Bigo was here, bitch." At trial, Barnett expressed some regret for some of his actions, but defiantly.
After deliberating for approximately two hours, the jury unanimously found him guilty of all eight counts, including felony civil disorder, obstruction of official process, and theft of government property. Barnett's decision to testify was "unequivocally the right one," his lawyer told reporters after the verdict.
Prosecutors were asking for a sentence of more than seven years. Barnett appeared this Wednesday in the Federal Court of the District of Columbia, where Judge Christopher Cooper has imposed his 54-month sentence. The judge has said that he "had not shown any acceptance of responsibility".
Barnett has addressed the court during the hearing, saying that he was not "proud" of his conduct, but ensuring that his attitude was not "threatening". "January 6 was a traumatic day for everyone. I admit that I was angry and I apologize for it, "he said, but he also added:" They want me to have remorse for things I did not do, "according to statements collected by NBC. Barnett plans to appeal and apply for parole.
Join EL PAÍS to follow all the news and read without limits.
subscribe
Subscribe here to the EL PAÍS America newsletter and receive all the latest news from the region