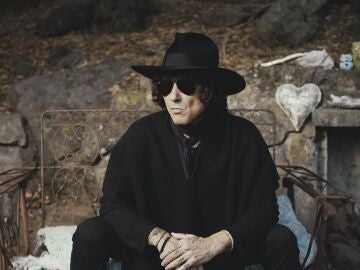 On February 28, 2022 and in the middle of a tour that covered his entire career from Héroes del Silencio to his solo career, Enrique Bunbbury announced that he was retiring from the stage due to health problems. The Aragonese retired to record songs, which will be, as he announced, his main occupation in music in the future, and, among them, came those of "Greta Garbo", his new album.
It is a job that sounds like a certain farewell.
In the songs on the album, he plans farewell and isolation, but also the hope of facing new challenges. There is something of an emotional fluctuation and, in some of the cuts on the album, both feelings coexist. It is clear to me that it opens a new phase of my life.
What is your state of mind after having to make drastic decisions in your career? Is she sad about it?
I'm used to making decisions. Not always so drastic, but I believe that every crisis is an opportunity. I don't feel like a victim of anything. I believe that throughout life you have to arm yourself with a good toolbox for difficult times. I am in a very good mood. Happy with everything that the release of this record entails and living each day as a gift. Also, I am convinced that when the promotion ends, I will have more free time to return to the studio and continue with my creative work, which is what excites me the most, as well as a good vacation.
Greta Garbo decided to confine herself voluntarily, to flee from the world that harassed and oppressed her, to take refuge. She plunged into utter loneliness. How does her life inspire Enrique Bunbury?
Not so absolute. My family has accompanied me at all times. I live in Topanga, California, a fantastic place in a natural setting that made that relative isolation very nice. Love, art and nature are good refuges to rediscover what really matters.
In "Cars de coche" he says: "They make us sweat blood in bumper cars without a steering wheel, moralizing gibberish, vigilantes of customs." Are we living in a new era of censorious puritanism?
The album is rather personal and introspective, but a couple of songs or three have something of a social look. This is one of them. There are those who deny that the culture of canceling or restricting freedoms really exists or is a problem. But there are nuances, freedom of expression, it is not being able to say what coincides with the official narrative. Freedom of expression is that you can say something that does not coincide with my ideas or even seems silly or insulting to me. Today we have the freedom to say what we want, but there are consequences. Bullying in networks and the lapidadores of the Internet are quite active.
He also says: "In his wake he leaves a generational culture of broken people, connected to his own reflection." What do you think of social networks?
They are neither the devil nor the antichrist, necessarily. They are tools at our disposal. We have the Library of Alexandria at our fingertips, but we prefer the Kardashians. We can publish and promote our work and be more creative than ever and be heard in New Zealand, but we'd rather show off our breakfast or take selfies in the bathroom. Finding the middle ground is more difficult than opening a bottle of excellent wine and drinking just one glass.
He has recounted his experiences with psilocybin in his book "MicroDose." What did she experience?
The purpose of the micro doses, in my case, was exclusively creative. I became interested in the constant and deep connection that microdoses facilitate to stay active and creative. And it gave me a theme to draw from to talk about the relationship of artists with the muses and inspiration, which in the end, I think, is the subject on which most of the poems in the book hover.
What do you think of restrictive drug legislation? Are you in favor of legalizing "soft" calls?
In general, I believe, as Escohotado said, that my exclusive jurisdiction begins from the skin to the inside. Governments and politicians should not interfere. You can't ban a plant. Going against nature is a total absurdity.
It has been published that you could go back on stage, in selected places, is that true?
It's true. It's what we're planning. Five concerts by the end of this year and another five next year. In selected cities of different countries.