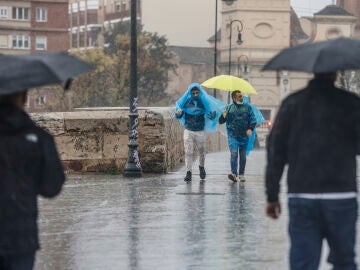 The Emergency Coordination Center has terminated the pre-emergency situation due to orange level rains and storms in the province of Alicante and the interior south and the coast of Valencia.
Along these same lines, an hour ago, the State Meteorological Agency (Aemet) has converted the orange level warnings into a yellow level.
"The Emergency Coordination Center has withdrawn the pre-emergency that in the last 48 hours affected the Valencian Community due to the strong and persistent rains that we have had in some regions", explained the regional secretary for Security and Emergencies, José María Angel.
However, it has warned that in the next few hours there could be rain both inside the Valencian Community and in the central regions.
"Emergencies will maintain coordination with all the agencies and organizations that it has maintained in the last few hours to respond to any situation that could be demanded by our town halls or by citizens," he assured.
As reported by Emergencies, both the Alicante and Valencia Provincial Firefighters Consortium indicate that there have been no incidents related to the rains in the last three hours.
During this episode of rainfall, the 112 Emergency telephone number has received 1,020 calls and managed 724 incidents in total.
Regarding the rainfall data for the last four hours, 12 liters per square meter have fallen in Alzira and 10.2 in Villalonga, according to these same sources.
There are only three roads left in the Community where traffic is conditioned by the rains: of the seven previously affected, three have reopened and one has general problems.
The A-79 presents general problems in Portitxol, Elche, while, due to flooding, traffic is restricted on the CV-598 in La Costera, the CV-654 in Fontanars dels Alforins and the CV-668 on the way to 'Umbria of Ontinyent.
Traffic has been reopened on the CV-570 in Carcaixent by the Forn de Carrascosa, the CV-655 in Ontinyent at the height of Pou Clar and the CV-571 at the height of the Vilella road.